[Hong Kong] Category-based quota for General Goods categories
From 2 May 2023, all sellers listing in the goods categories will have a free quota in each category that refreshes every 2 months. Quota refers to the number of listings you can create or mark as active every 2 months. Listings activated by quota will not expire.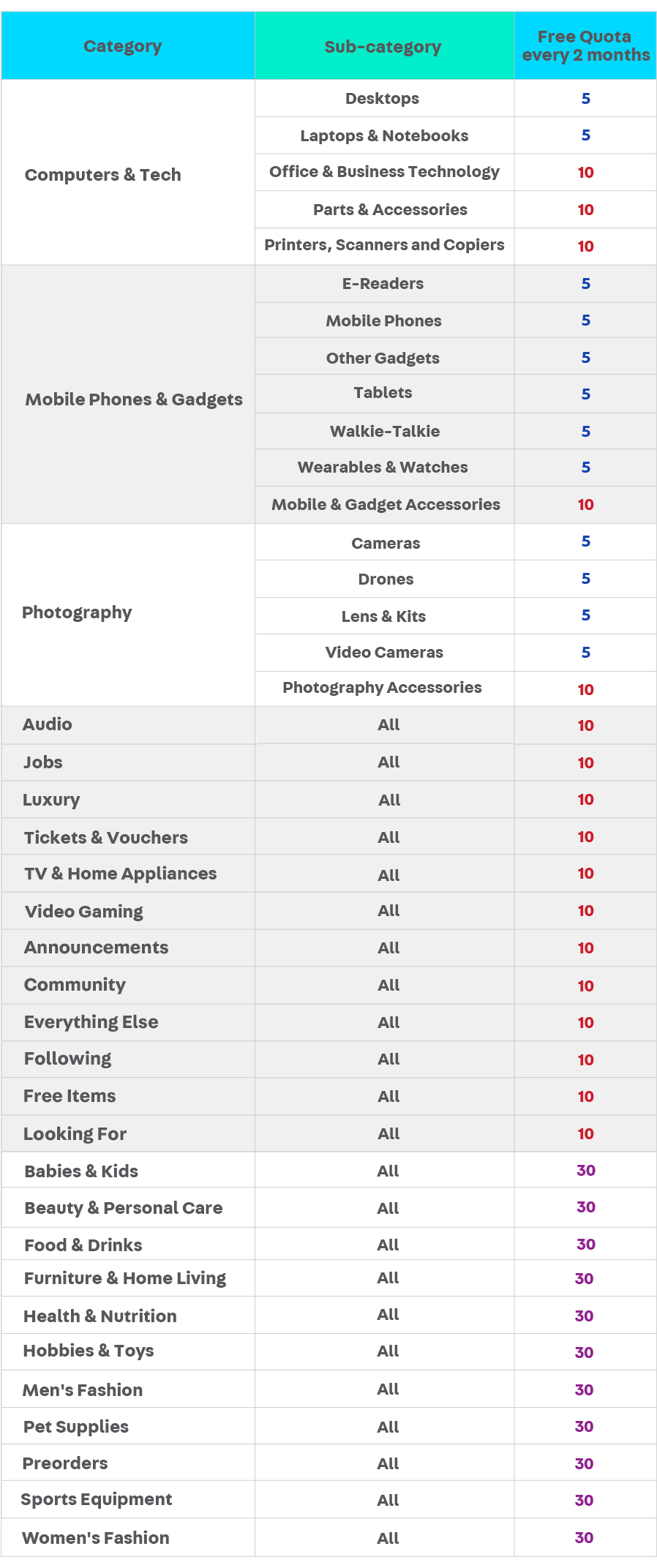 Category quotas are non-transferrable and can only be used within the category.
What's changing?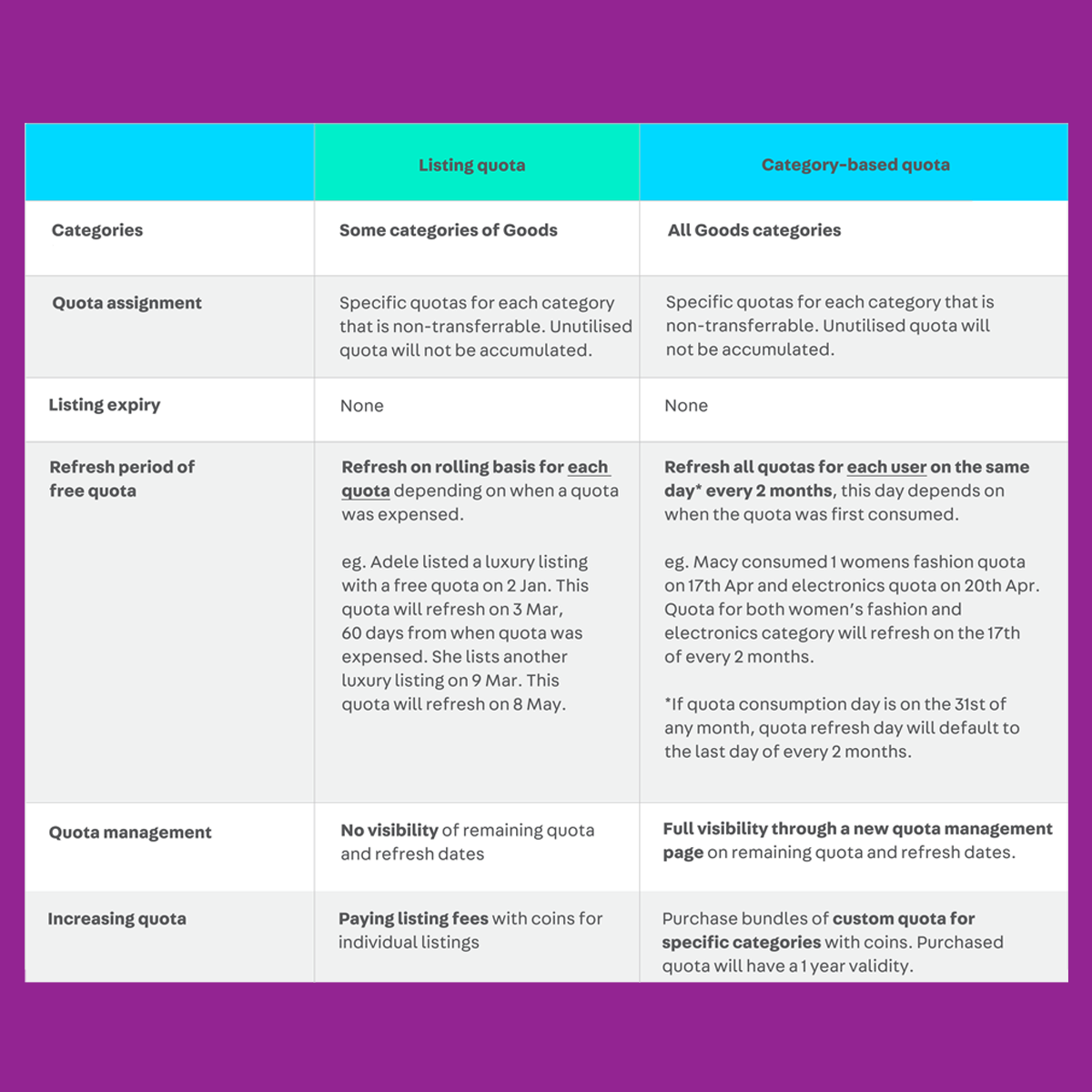 The new category-based quota system only applies to General Goods categories, excluding Autos, Property & Services
What will happen to my listings on 2 May 2023?
All listings that were made active before 2 May 2023 will remain active on the marketplace unless marked as sold, deleted or removed for moderation reasons.
What if I have unused listing quota after 2 May 2023?
On 2 May 2023, all category quota will be reset to the default value as shown in the table above. This will be regardless of how many quotas were consumed on the old listing quota and listing fee system.
How does the refresh window work?
(Available from 2 May 2023 onward) Your free quota will refresh on the same day every 2 months. You can check the date of your quota refresh in the "Manage listings" page.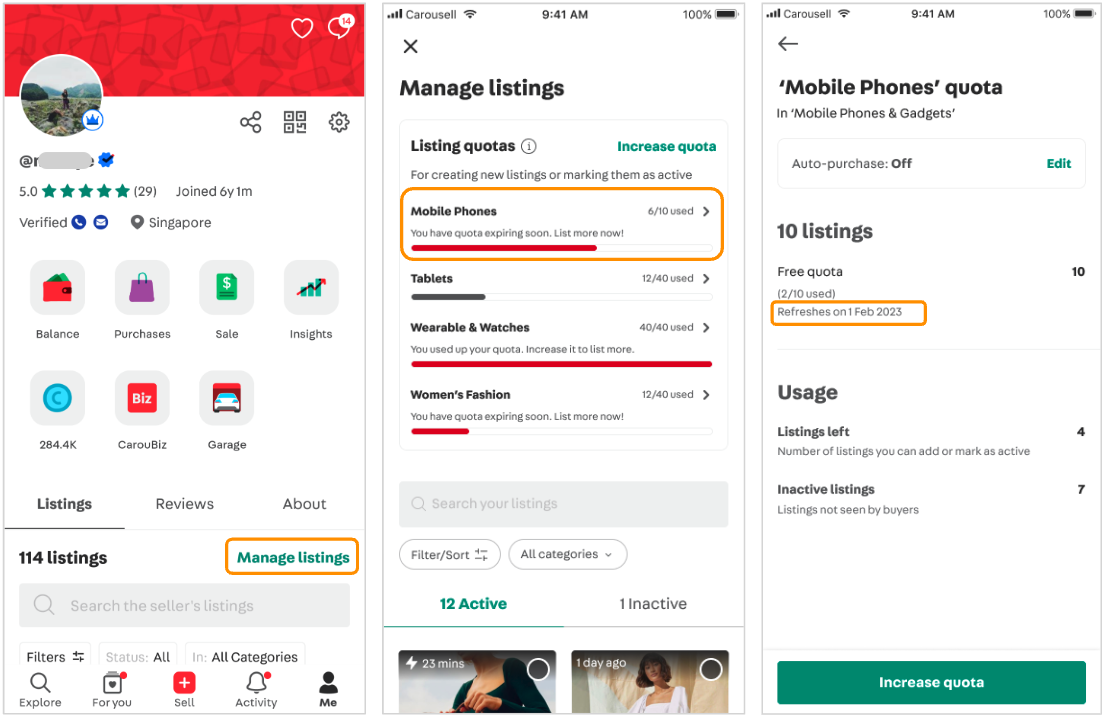 Will my unused quota accumulate?
Unused quota will not accumulate.
If the free quota is unused, it will reset to the original number of free quota on the next refresh date.
For paid additional quota that is unused, it will be removed upon expiry. There will be no extensions for these quotas.
Can I transfer my quota to other categories?
No, each quota is allocated to a specific category and is not transferable across categories.
When I change a category of my listing, will it consume quota?
Yes, quota of the new category will be consumed. There will be no quota returned for your previous listing category. If there is no quota left for the new listing category, listing will be marked as inactive.
What if I want to list more than the allocated amount of quota for the category?
There are 2 options for you:
Wait for your free quota to refresh every 2 months, or
List them straight away by purchasing additional custom quota for the specific categories
Will my listings expire?
Your listings will not expire. It will remain for as long as it is not marked as sold, deleted or removed by our moderation team.
What happens when my listing is active or inactive?
Listings can be either active, inactive, reserved or sold.
| | |
| --- | --- |
| Active | Buyers can see these listings, make an offer or start a chat with you. Only active listings can be found and promoted on the marketplace. |
| Inactive | Listings that exceed quota will not be shown when buyers search or browse. You'll not receive new chats or offers for them. |
| Sold/ Reserved | Listings that you've marked as sold or reserved can be seen on your profile, but buyers can no longer make an offer or chat with you. |