[Singapore] What is custom quota?
You can now increase your general quota of 30 by buying custom quota bundles with Carousell Coins. This allows you to enjoy the flexibility of increasing your quota as you need, to list more at a time. Choose to increase your quota by just 1, or in bundles of 5,10, 20, 30, 40, or 50. Each bundle will have a validity of 30 days from the date of purchase.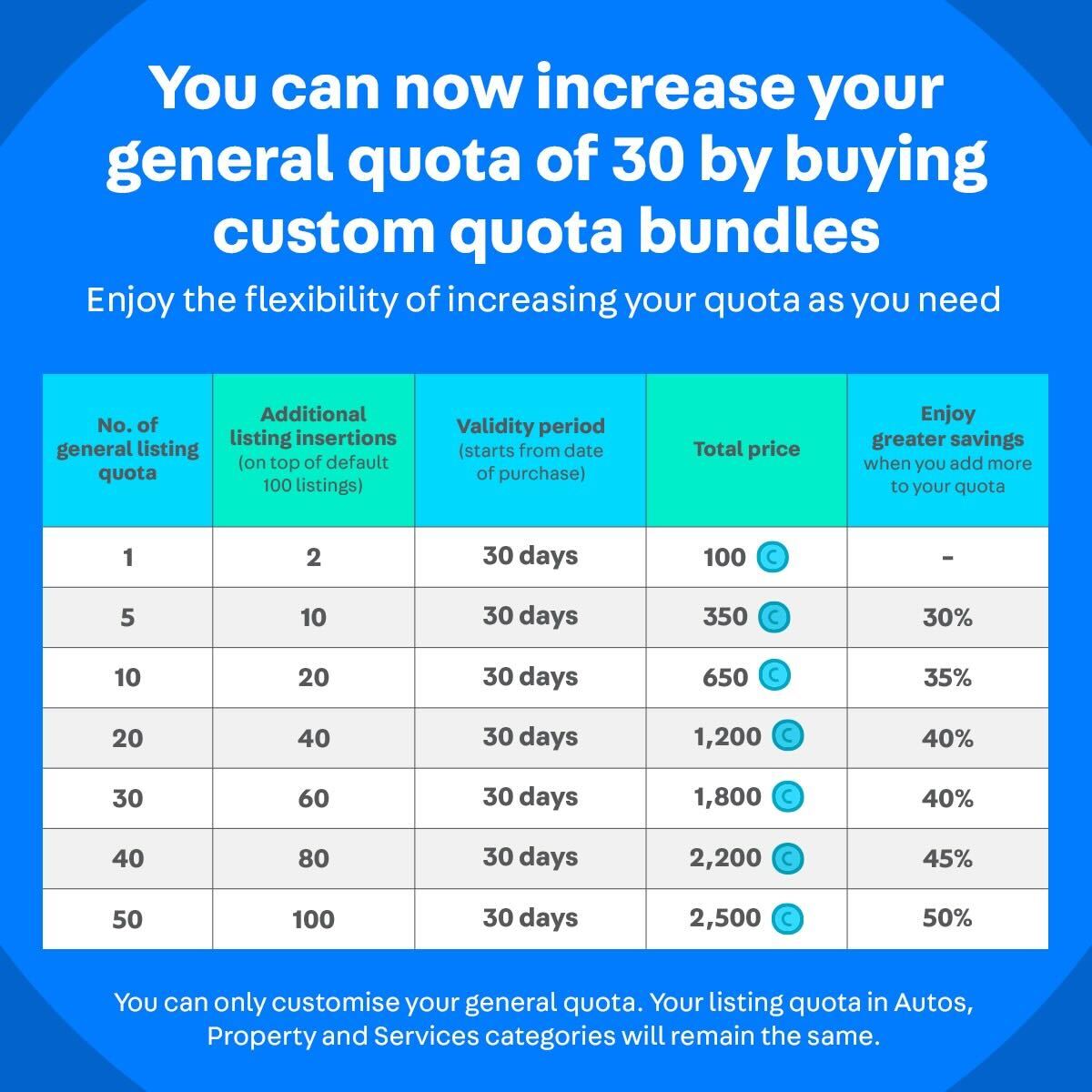 Note: Prices of quota bundles may differ based on ongoing promotions
*Custom quota is only available in the Singapore marketplace. You can only customise your General quota (all categories except Autos, Property, Jobs and Services). Your Autos, Property, and Services quotas will remain the same. For more details on excluded categories, check out this article.
Can I purchase more than 1 custom quota bundle?
Yes, you can.
At any point of time, your total quota will be the sum of:
Free general quota of 30

Quota from CarouBiz package (if you're subscribed to CarouBiz)

Valid custom quota bundles
Will my quota be freed up if an active listing is sold/deleted/marked as inactive?
Yes, your quota will be freed up and you can continue to list another listing if you still have listing insertions left.
Listing insertions refers to the number of times you created a new listing or marked a listing as active. To check your listing insertion usage,
On app
Tap on 'Manage listings' on your profile ('Me' tab)
Tap on the 'Free, 30 listings' card at the top of the screen
On web
Click on 'Manage listings' on your profile page
You'll see your listing insertions usage on the left hand side of the page. For more details on listing insertions, you may check out this article.
What is the validity of each custom quota?
Purchased quota is valid for 30 days from the date of purchase.
*All purchased custom quotas are non-refundable, so choose what suits your selling needs!
What happens when my custom quota expires?
Once expired, if your number of active listings exceeds quota, your most recent listings created will be automatically marked as inactive.
To increase your quota, you can either:
Subscribe to CarouBiz or upgrade your existing CarouBiz plan

Buy another custom quota bundle

After you increase your quota, listings that were previously marked as inactive by our system will be automatically marked as active. No listing insertions will be used for this automatic restoration.
How can I check my eligible quota and manage my listings?
We've made it easy to keep track of your quota! Just go to your profile page ('Me tab') and tap on 'Manage listings' to check on your quota usage. You may also bulk mark your listings as active or inactive from this page.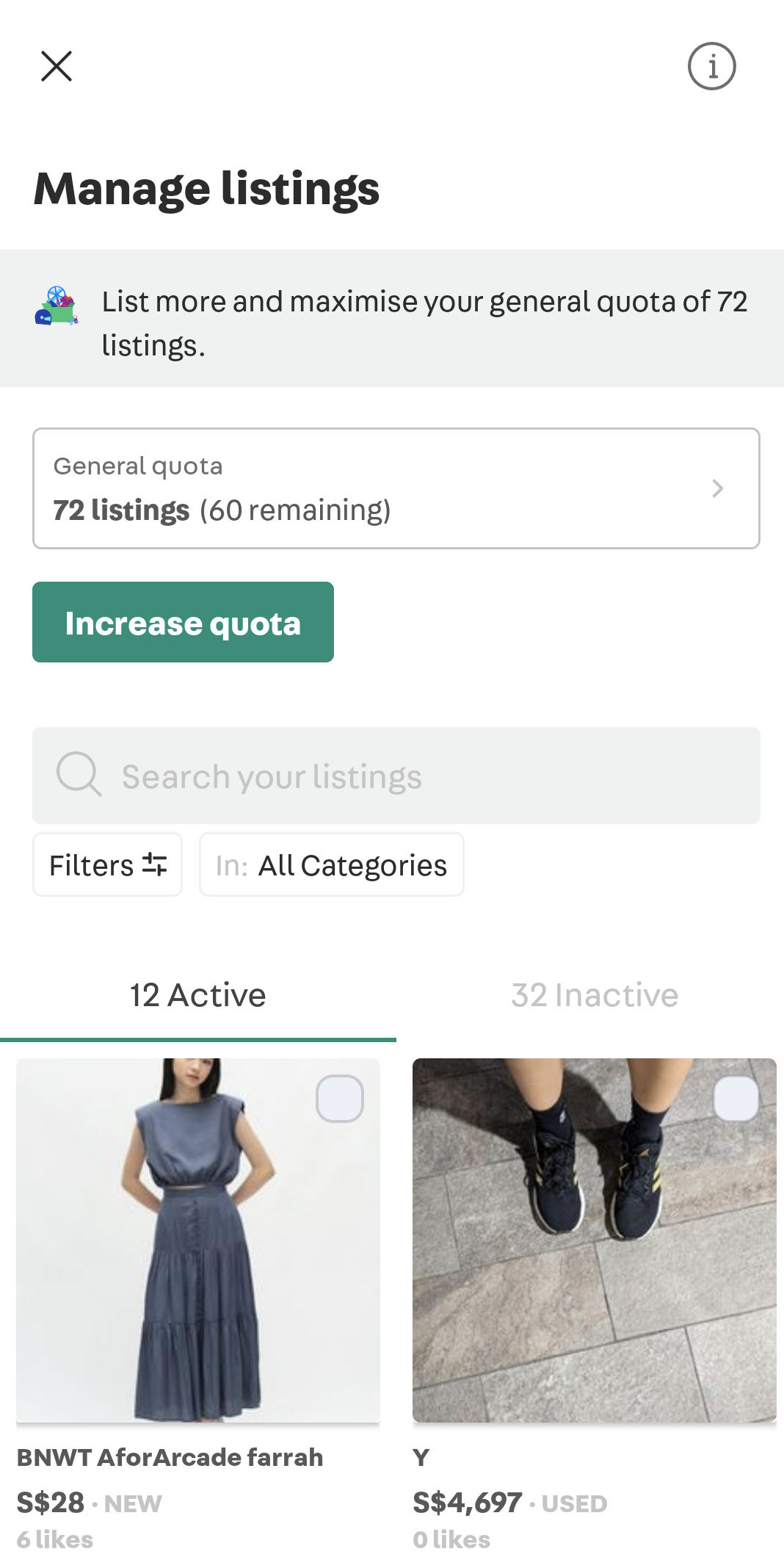 What if I have a CarouBiz subscription but would like to switch to Custom Quota instead?
CarouBiz and Custom Bundle are not mutually exclusive products. Caroubiz offers an additional suite of premium tools designed to help grow businesses on a subscription basis, while custom quota bundle allows flexibility for users who wish to increase their listing quota on an ala-carte basis.

Should you decide to cancel your Caroubiz subscription to purchase Custom Bundle based on your needs, you may refer here on how to cancel your subscription. Do note that no prorated refunds will be given for cancellation, however you will still enjoy your CarouBiz subscription until the end of your subscribed duration.