[Malaysia] Shipping: How to drop off my item with PosLaju?
PosLaju does not offer parcel pick-up services but not to worry, parcels can be dropped off at 800+ locations across the country:
PosLaju Kiosks
PosLaju Centers
Ezidrive-thru
Pos Malaysia
Find the drop-off location that is nearest to you here.
Note: EZIDROP lockers, and PosLaju Agents (e.g. MBE, CollectCo) do not support this at the moment.
Before drop-off:
1. Make sure to print 2 copies of Consignment Note, paste one onto the parcel and hand over the other one to the PosLaju officer at the counter.
2. Make sure you have packed the item properly with Consignment Note attached for each parcel.
Upon drop-off:
1. You can drop your item off at any Pos Malaysia or PosLaju branch to process your shipment. The service is not available at MBE.
2. Drop your item over the counter to PosLaju staff. No scan or drop off over the machine.
3. Fill the PL9 form. You may keep PL9 form as a proof of drop-off.
A sample of manifest or PL9 form can be found below: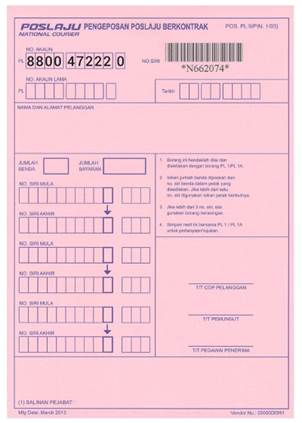 4. Tracking status will be updated in your Carousell app within 3 hours after drop-off.
What is PosLaju's operating hours?
Please be informed that effective 1st February 2020, all Pos Malaysia branches and Pos Laju Outlets will be closed on every third Saturday of each month. Except for Post Offices inside shopping malls, Pos Laju kiosks and Post Offices which operate 5 days a week.
Do note that the operation hours are subject to change. For more information, please visit the Pos Malaysia website.
Branches with PosLaju Priority Lanes
If you shipped with PosLaju on Carousell, you will be able to spend less time and drop off your parcel by using dedicated PosLaju Priority Lanes.
Currently, there are 88 PosLaju branches across Malaysia that provide such a service. Note that if you're visiting a branch without priority lanes, you'll need to take a number and queue to drop off your parcel. For full list of the branches with priority lanes, please visit the Pos Malaysia website.