[Singapore] What is Buyer Protection?
For Buyers
When you pay via the 'Buy' Button, Buyer Protection is applied to your order. It helps ensure safe payments, gives you the right to claim a refund if your item doesn't arrive or is Significantly not as described, and access to customer support.
Listings with the 'Buy' button enabled will be applicable for Buyer Protection if you make payment through the Carousell supported payment methods. Currently we accept PayNow, DBS PayLah!, Visa/ Mastercard Debit/Credit Cards


With Buyer Protection, you will be able to raise a dispute and it will cover you for cases listed below;
Item not received if you opted for tracked shipping
Note that Buyer Protection does not cover non-delivery if untracked mail is opted as the method of delivery. Buyers are advised to opt for tracked shipping.
Item significantly not as described





An item is considered as significantly not as described if:
- It is a different variation in size, colour, model, or version
- It has incomplete or missing parts which differs from what is stated in the listing description
-It differs from the condition that was stated in the listing description
-It is damaged or there is one or more undisclosed defect(s) that affects its functionality


Simply raise a dispute/ return request from your Order Details Page in app and our dedicated Support Team will get back to you within 24 hours.
For Sellers
When you enable the 'Buy' button on your listing(s), you will allow your buyer to transact via Carousell platform payment methods. In-app transactions paid through Carousell comes with Buyer Protection.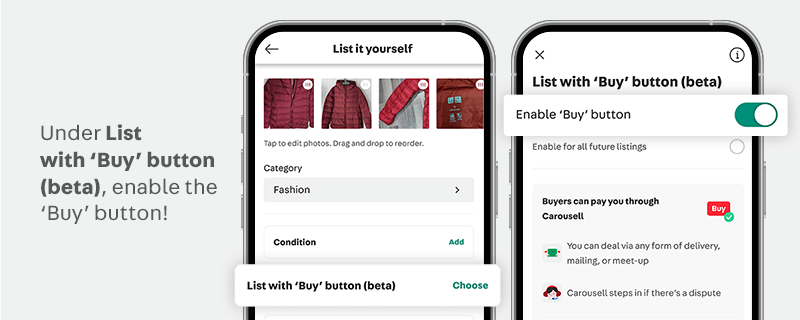 The 'Buy' button allows you to deal safely on our platform
Allows you to add delivery as a deal method to your listings, instead of only having to deal through meet-ups

Access to Carousell Delivery and enjoy exclusive shipping rates for door-to-door delivery

Offer a variety of payment options to your buyers – PayNow, DBS PayLah!, Visa and Mastercard Debit/Credit Card

In the event of a dispute, Carousell will intervene as a neutral third party
Simply toggle on the "Enable 'Buy' button" on your listings to enjoy the benefits above.
How do I qualify to create listings with the 'Buy' button?

In order to be eligible to list with 'Buy' button, you must fulfill the following criterias:
Seller review rating of at least 4.0

Low order cancellation rate in the last 30 days




- Only one cancellation is allowed if you have less than 10 orders




- Cancellation rate kept to less than 10% if you have more than 10 orders
Eligibility will be reassessed and updated on a weekly basis every Monday.
The 'Buy' button is only available in selected categories found here.
*Advisory*
Beware of fake orders claiming to be under Buyer Protection or orders with the 'Buy' button. As a seller, you would never need to leave the app, send your email address or mobile number to receive payment. If you're being asked to enter your credit/debit card details to receive payment, do not proceed and report the user to us immediately.
Read more about Phishing scams here.