Phishing emails or suspicious links claiming to be from Carousell
How do I know if the website is from Carousell?
All Carousell websites will end with carousell.com, carousell.sg, carousell.com.hk, id.carousell.com, carousell.com.my, carousell.ph, tw.carousell.com, carousell.app.link, carousellluxury.com. Check your address bar, make sure the url ends with one of the above. Scammers tend to disguise links as "carousell.<extra text>.com", such links do not belong to Carousell.
Examples of fraudulent urls that do not belong to Carousell
carousell.quick-funds.in/266780736
carousell.payportal-sg.com
A website url may have "carousell" in it, but that does not mean that the website is from us. Phishing sites may trick you by including "carousell" in their url, such as carousell.lalamovetoday.com or carousell.pay.com but don't be fooled! Those are not official Carousell websites.
Received an url from "Carousell" linking to a third-party website that is asking for your email address, password, credit card information or any other personal information? If so, it is probably not from us.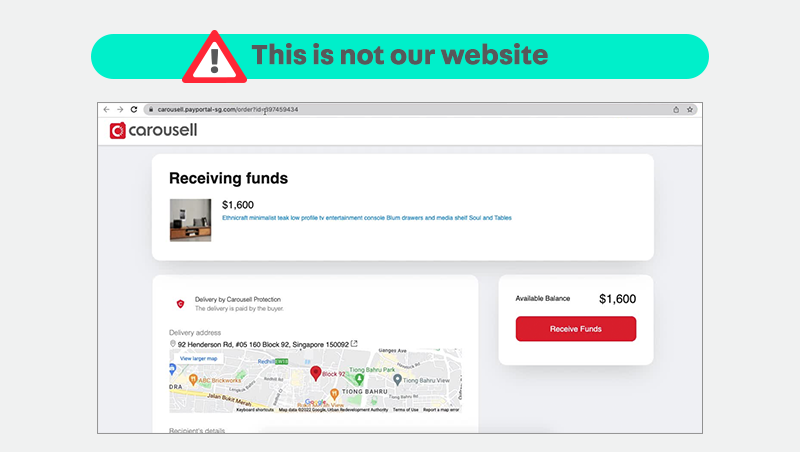 How do I know if the email is from Carousell?
Emails from Carousell about your account always come from @carousell.com or @thecarousell.com. Check the sender's email address and ensure that there are no spelling errors.
Other than on our own website (see list above) or links found in our Help Centre, we will never direct you to websites to key in the following details:
Email address
Password
Credit or debit card number
Mobile number
If the email links to a URL that you don't recognize, don't tap or click it. If you did already, do not enter any personal information on the website that opened.
Carousell will never request for payment through a 3rd party vendor or website. Any payment to be processed is only made through the app. As a seller using Carousell Protection (available only in Singapore and Malaysia), you will not need to submit your credit or debit card number to receive payment.
What should I do if I clicked a link or provided personal information?
Change your Carousell password to a new one that is strong and unique to Carousell

Update your password on any websites where you used the same email and password combination

Contact your financial institution if you entered any payment information, as it may have been compromised

We strongly encourage checking your bank statement and to contact your financial institution immediately, if you see any suspicious transactions made

Send us a screenshot of the email you received, with the sender and link visible through our chat support or submit a request to us.
Please contact us if you think your email was changed without your permission.
How do I keep my account safe?
Be extra alert when you receive an email requesting personal information:
Check the sender's address to see if it looks legitimate, and look out for spelling errors too
Do not click on suspicious links claiming to be from Carousell (check the URL!)
Do not respond to emails asking for your password, credit card information or any other personal information
If you need further assistance, chat with us! Live chat is available from 10AM–9PM on Monday to Sunday for users in Hong Kong, Malaysia, Philippines, Singapore and Taiwan. Select the floating chat button at the bottom right-hand corner of this page to start chatting with us. Alternatively, we invite you to submit a request to us—we'll be here to help!