[Singapore] How to ship with Carousell Official Delivery
Sellers can now enjoy a hassle-free way of delivering their items to buyers. Carousell has now its official delivery method that allows for doorstep pick-up. Starting 27 Sep 2023, you can opt for 'Paperless' delivery if you do not have a printer at home; we'll take care of the shipping label for you!
Have your parcel delivered to your buyer within 1-3 working days after pick-up at a special discounted rate offered to Carousell users. Pick-up is scheduled between 9am - 6pm from Monday - Friday and 9am - 1pm on Saturday. There will not be any pick-ups on Sunday and Public Holidays.
Please ensure that your app is updated to the latest version in order to see this feature. Packing materials will not be provided by the courier. You will need to ensure that your parcel is packed in the proper packaging according to the guidelines mentioned in this article.

Carousell Official Delivery does not support the shipment of bulky items that exceeds 30 kg and/or if the dimension exceeds 300cm.


*Advisory*
Carousell now offer its own pick-up service (supported by official partner J&T Express). The pick-up is arranged directly through the Carousell app or website. Please be cautious of buyers who direct you to external links and immediately report the user if you encounter such situations. You may read up more on our advisory here
How do I enable shipping with Carousell Official Delivery?

1. List an Item or Tap on "..." to edit listing.
2. Under Deal Method, select "Pick-up (Carousell Partner)"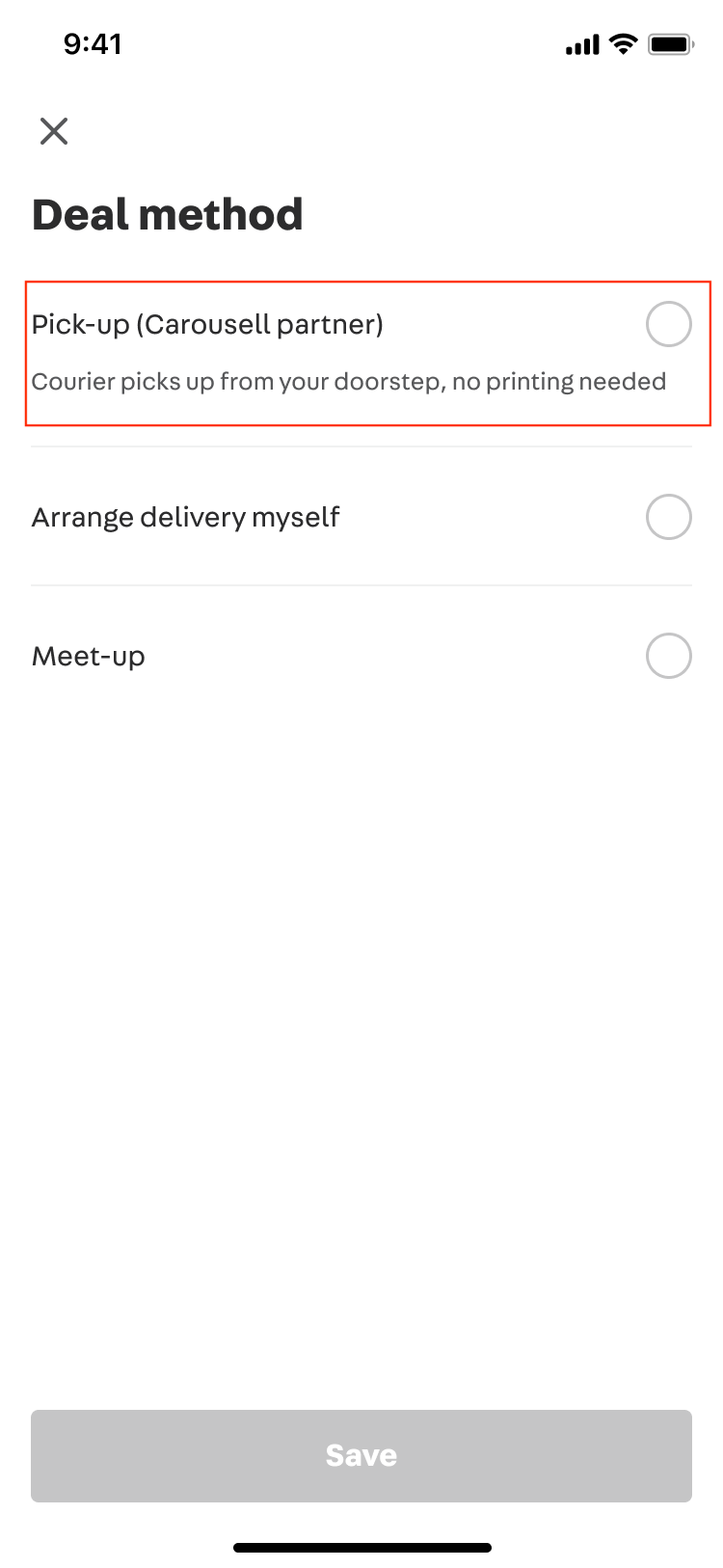 3. Notify us if you would like to print the label yourself or request the courier to print the label for you. Do note that there will be an additional fee charged if the courier prints the label for you. You may refer to the table below for details on the pricing breakdown.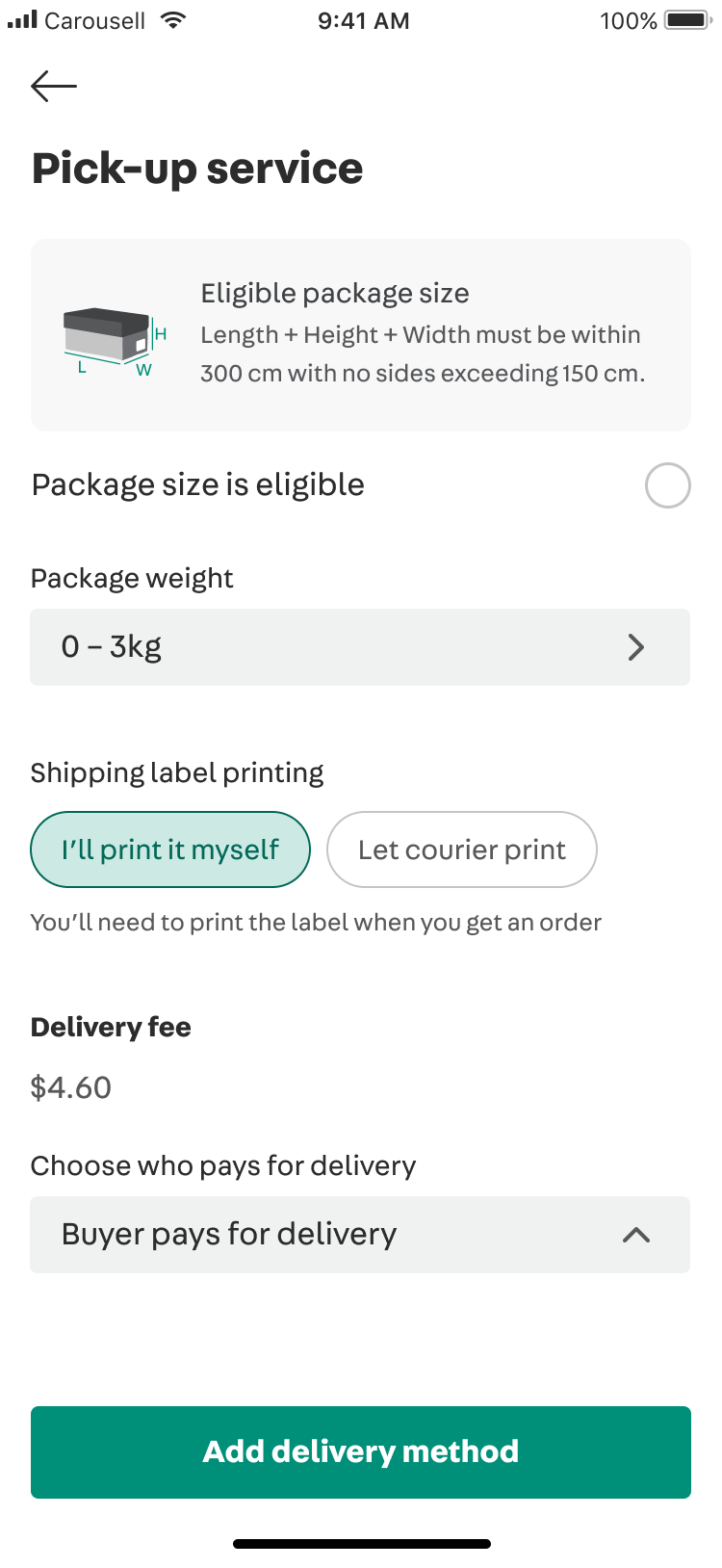 Ensure that you select the appropriate package weight for your parcel.

(You print the label)
Non-Paperless Promotional delivery rates from 25 September 2023 to 31 October 2023
| | |
| --- | --- |
| Weight | Promotional Delivery Rates (till 31 October 2023) |
| 0-3kg | $4.10 |
| 3-5kg | $4.60 |
| 5-10kg | $5.00 |
| 10-20kg | $10.10 |
| 20-30kg | $12.10 |

(Courier prints the label for you)
'Paperless' Promotional delivery rates from 25 September 2023 to 31 October 2023 (Courier print

| | |
| --- | --- |
| Weight | Promotional Delivery Rates (till 31 October 2023) |
| 0-3kg | $5.20 |
| 3-5kg | $6.40 |
| 5-10kg | $7.40 |
| 10-20kg | $11.50 |
| 20-30kg | $12.50 |
*The table shows the total cost of shipping, with discounted pricing for the new launch promotion. J&T or Carousell reserves the right to amend the cost of shipping. The actual costs shall be as stipulated during your order detail form and subject to adjustments in accordance with our Terms of Service.


Do note that in the event that you selected the weight incorrectly or if the package differs from the option selected, J&T will charge accordingly (based on their prevailing fees and charges) and the difference in fee will be deducted from your Balance.


4. You are all set!


How do I prepare for pick-up?
1. Congratulations! You have a new order! Go to Sales or Tap on View Order Details from your chat log.
2. Schedule a pick-up and select a suitable date. The cut-off time for next day pick-up is 2pm.





Ensure you check the following items before you confirm the pick-up details.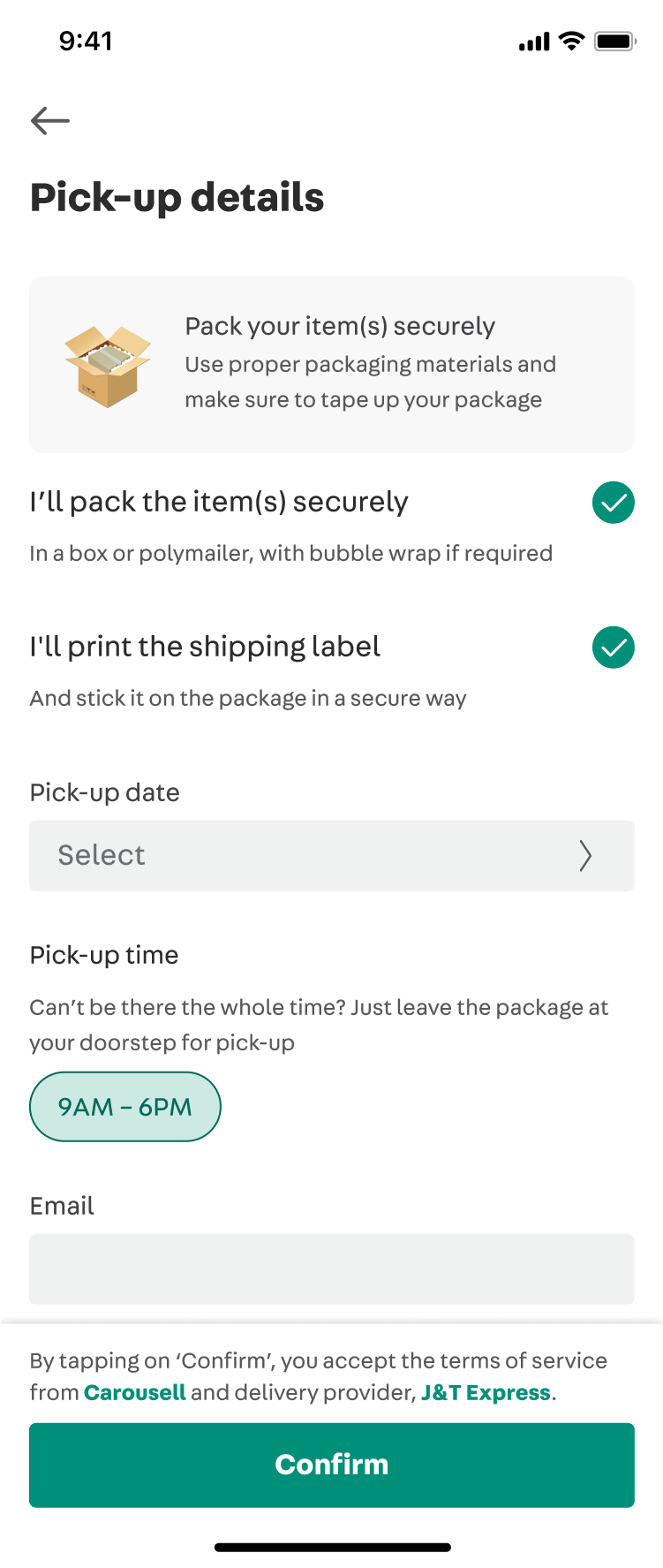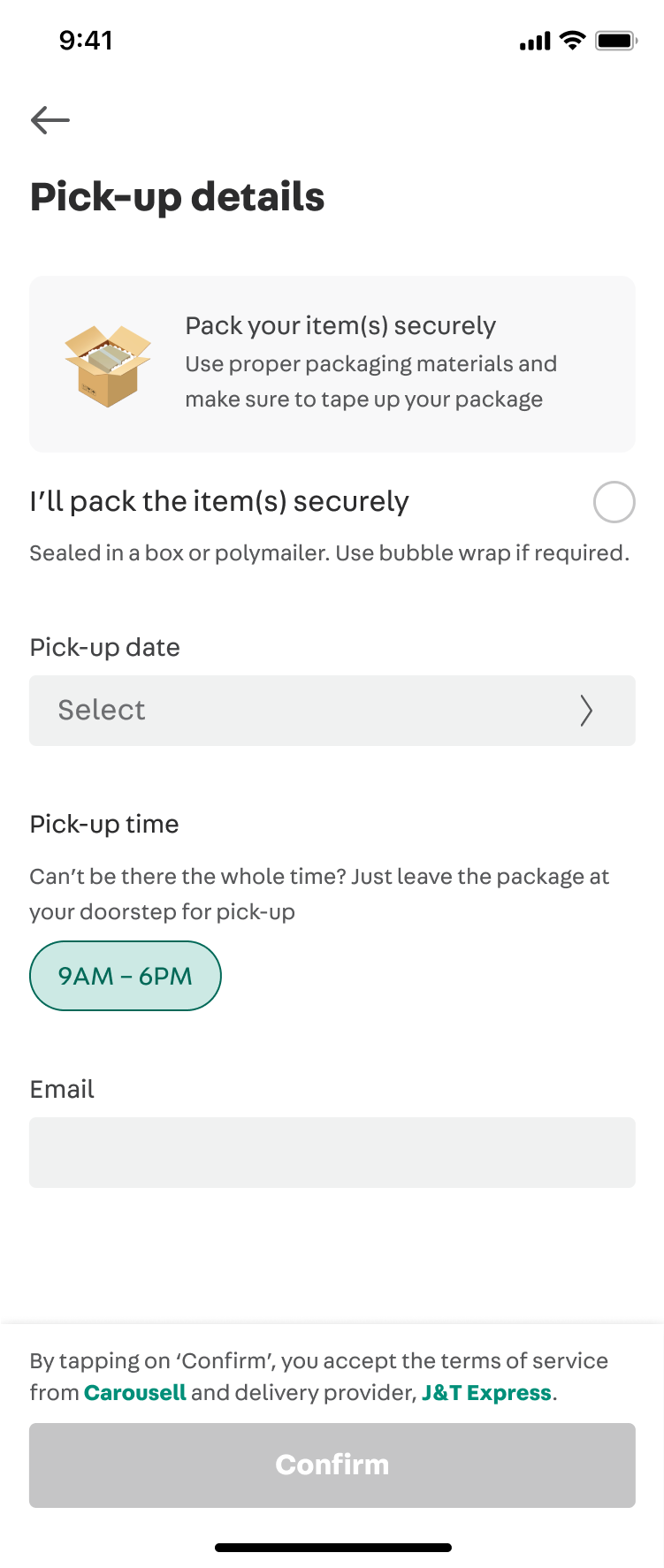 3. Check if your pick-up address is correct. Do note that you cannot change the pick-up location and time slot after the request has been submitted.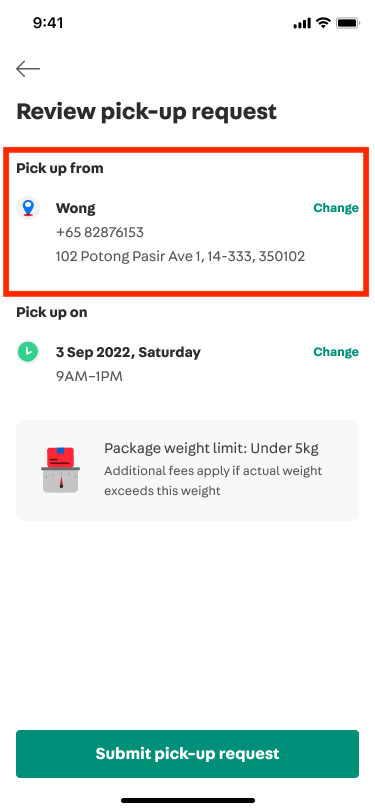 4. For 'Print your own label': Tap on View shipping label to receive your label. You will need to adjust your printer settings and print the label in A6 Dimension 10.5 x 14.8 cm) on an A4 size paper and ensure that the wording on the shipping label is not faded and is clearly visible.

Do note that the courier reserves the right to reject your parcel if you have selected the incorrect option and if the label is not printed according to guidelines.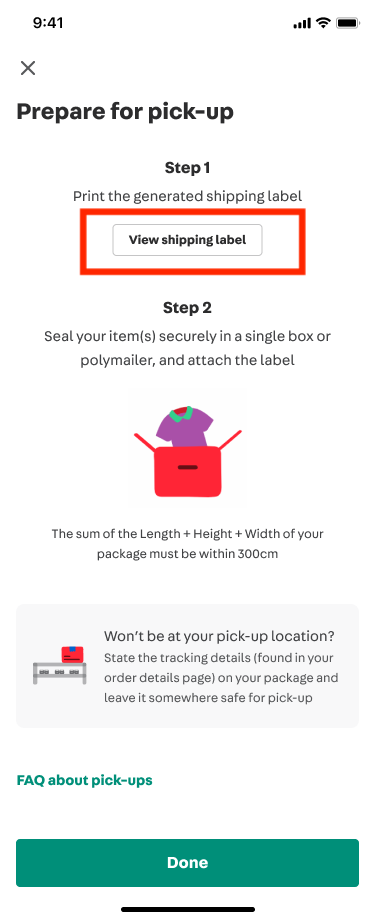 For 'Let Courier print': We just need you to write the Tracking ID on your package, so that the Courier can identify your package when they print the label on your behalf. You may find the Tracking ID under Pick-up details in your Order details page.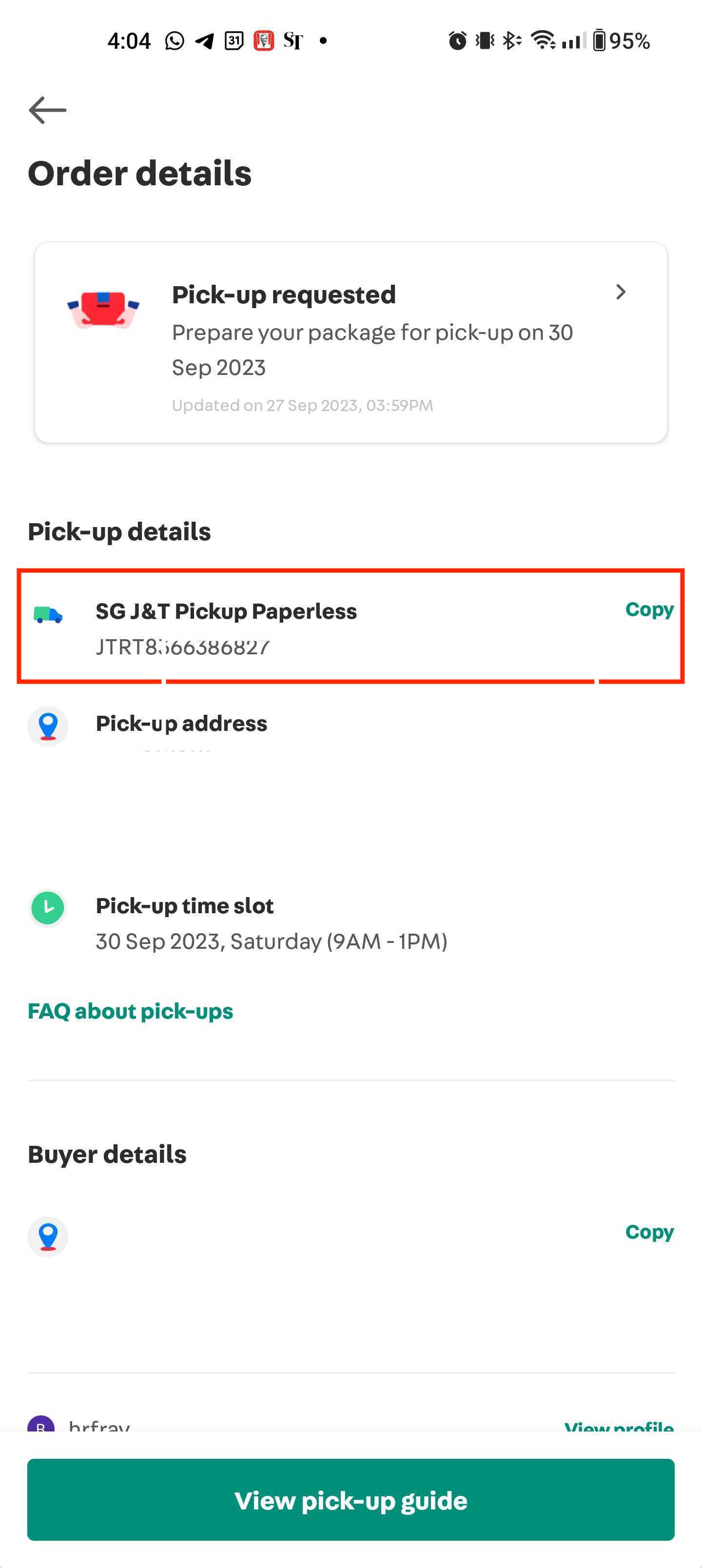 5. Please pack your items in acceptable packaging, in a carton box or polymailer bag, according to the guidelines.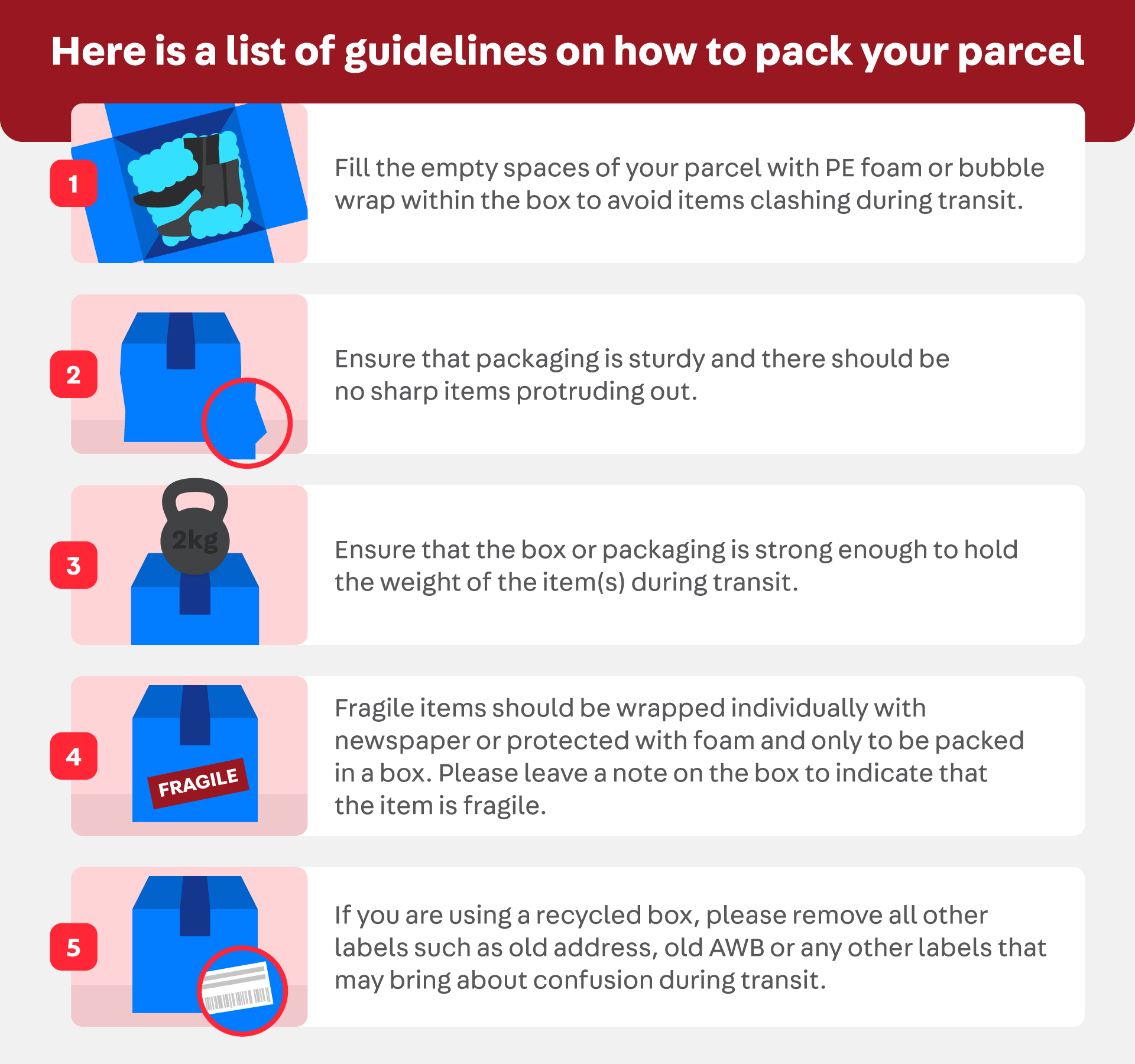 You may refer to a more detailed packaging guideline in J&T's packing guidelines:

6. You can track your parcel from your Order Details Page once the pick-up has been made.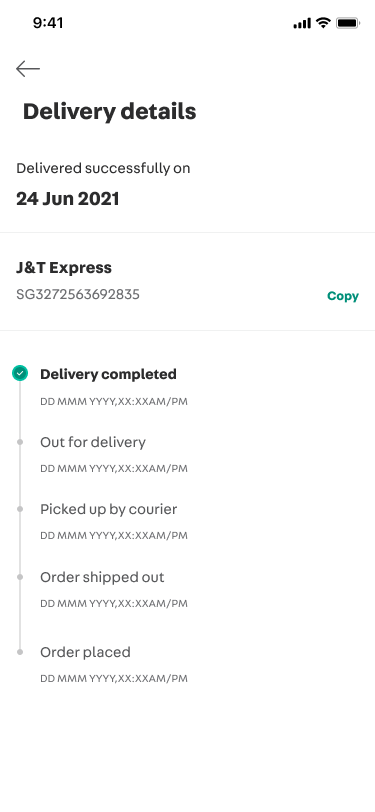 If your pick-up was delayed or if you missed the pick-up window, J&T will reschedule your pick-up to the next working day. You can track the delivery status on your Order Details Page.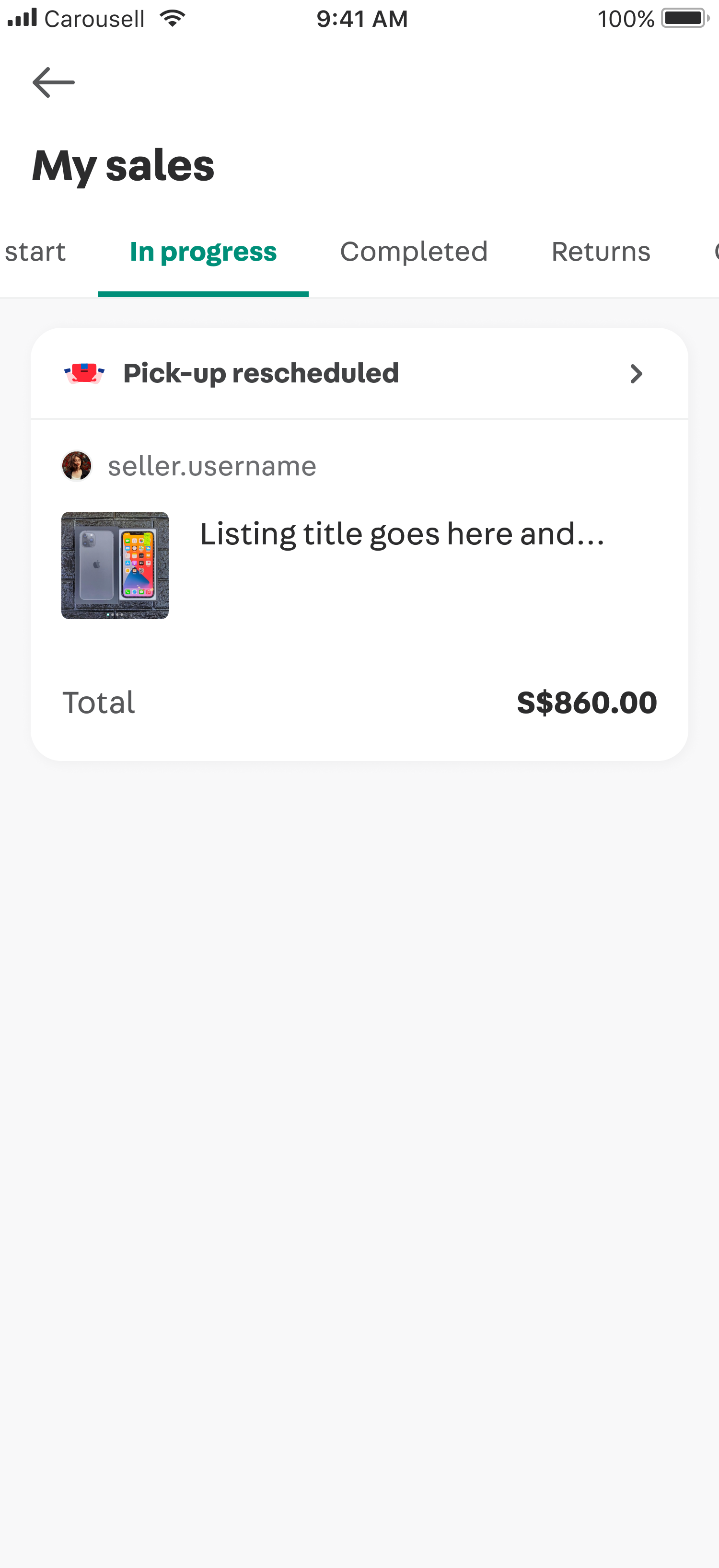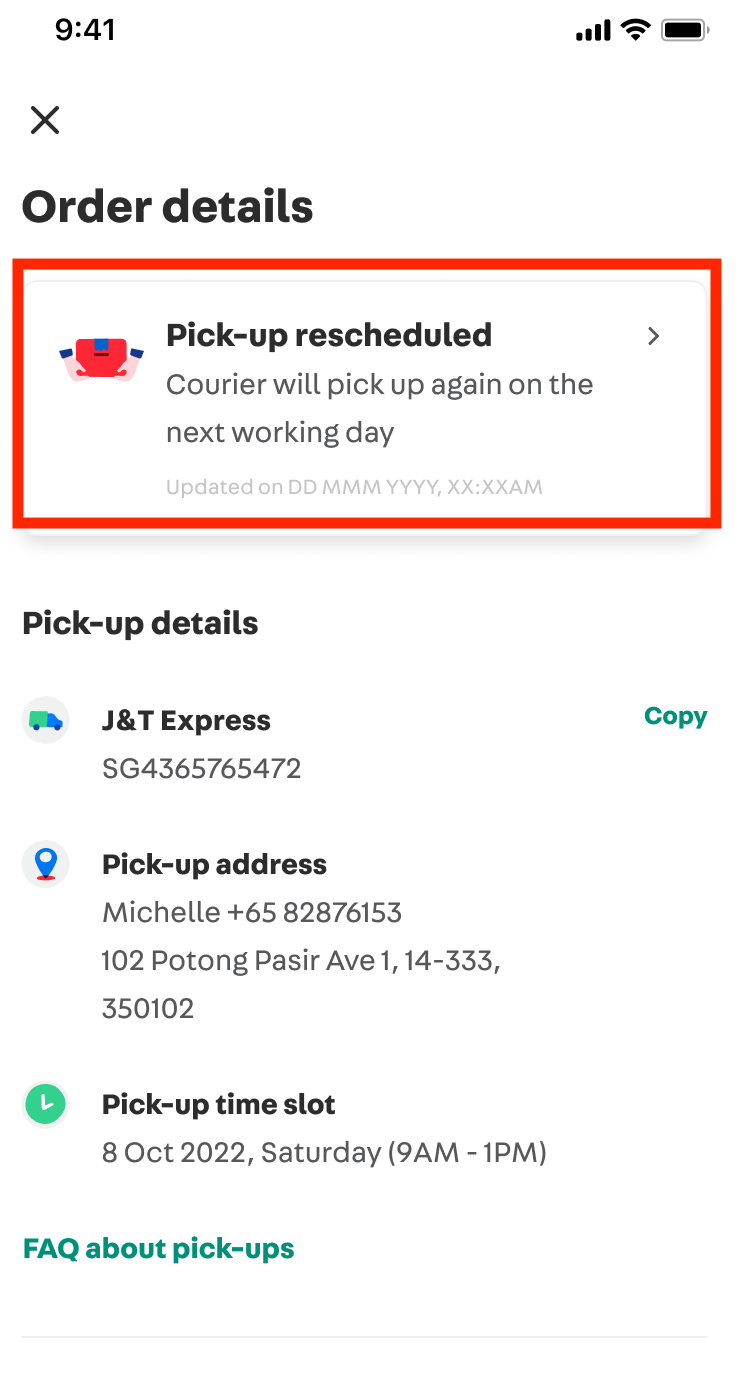 What happens if I would like to change my pick-up date?

Once the pick-up request has been submitted, you will not be able to cancel the order. J&T will make 3 attempts to pick up your parcel, before the order becomes canceled.
If you are not at home (or at the pick-up location) during the pick-up, you may choose to leave the parcel at a visible and safe location for the delivery personnel to pick-up from. The delivery personnel will give you a call if they are unable to locate your parcel at the mobile number that you have provided during checkout.


Items that will not be accepted for shipping
Apart from the List of Prohibited Items that cannot be sold on Carousell, the courier will not facilitate pick-ups for the following items;
Items that exceeds 30kg and/ or 150cm on one side.
Items that exceed the sum of dimension (L + W + H) of 300cm
Credit cards or ATM cards.
Human, animal remains and religious artifacts.
Firearms or swords.
Living things.
Poisonous and toxic substances.
Examination certificates, passports and insurance documents which cannot be reproduced.
Written drafts, original films, tapes and film material which cannot be reproduced.
Flammable, ignitable or volatile items such as fireworks, kerosene, gas canisters or paint thinner.
Cash, cheques, bills, stocks, other marketable securities and any restricted or illegal substances.
Temperature-sensitive items which require it to be stored in a controlled environment.