[Singapore] How do I ship my items?
You may opt for 3 types of Deal method: Pick-up (by Carousell Delivery Partner), Arrange delivery on your own and/or Meet-up.

All orders with 'Buy' button are automatically confirmed once the buyer pays successfully. You will be able to find the order under 'My Sales' on your profile page.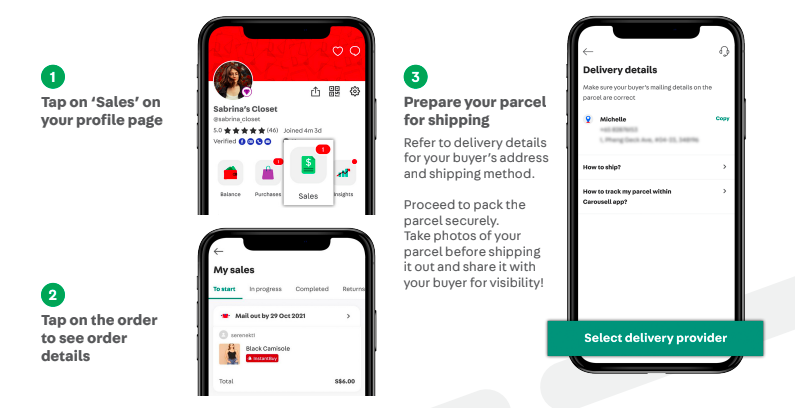 On the Order Details page, you will be able to see the date that you need to mail out your order. You will need to ship the order out by the date indicated in your Order Details. Orders that have not been shipped within 6 days after the order is placed will be automatically cancelled. Once you're ready to ship, click "Start delivery" and select your delivery provider from our list of delivery partners.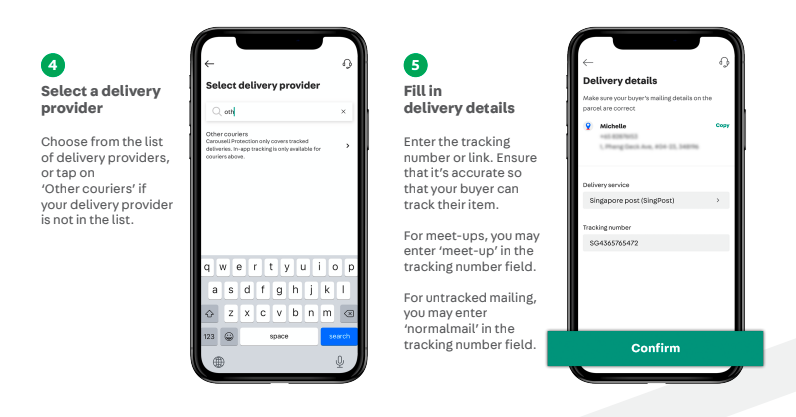 Pick-up by Carousell Official Delivery

You can schedule pick up directly from the app or website. Tap on 'Schedule pick-up' to confirm the pick-up date and time. You will then be prompted to a 'Prepare for pick-up' page where you can tap on 'View Shipping Label' for the tracking ID and label. Print out the shipping label and paste it securely on your parcel and wait for the courier to collect it. Note that the courier will pick-up from your preferred address marked in My Address and Collection point page in your profile settings. Tap here for more information on Carousell Official Delivery.

Arrange delivery myself
For Tracked Delivery (Same-Day Delivery and Express Delivery)
Carousell supports a list of couriers which you can enjoy in-app tracking for your delivery here. Simply put in the tracking code of these supported couriers and you're good to go! The tracking code will help the buyer and Carousel to verify that the item has been delivered.
For Untracked Delivery (Standard Delivery)
For untracked delivery, you may select "Singapore Post (Singpost) Basic Mail" from the list of delivery partners so that the tracking code is not required. Once you're done, tap on "Confirm" and we will notify your buyer that their item has been mailed out.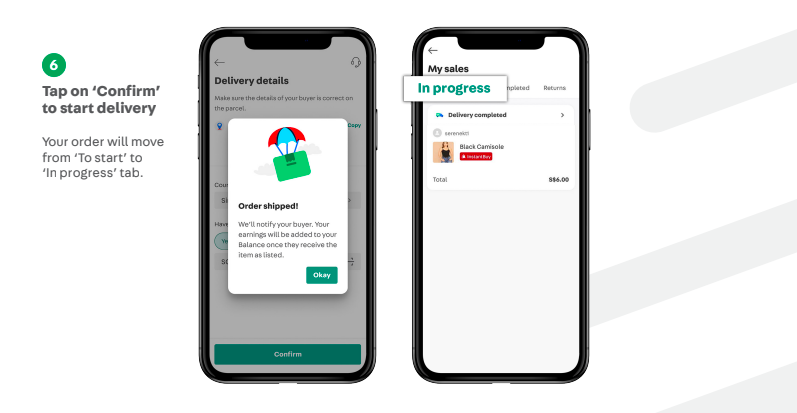 How do I proceed if my tracking code is invalid?
If your tracking number is invalid, please check that you've entered the correct tracking number. If the issue persists, you may choose to skip the tracking number to continue shipping without in-app tracking:
A message informs you that the tracking code is invalid

Click "update" tracking number"

Update the tracking number again and tap on "Confirm"

If your second attempt is an invalid code again, a message will prompt you to continue anyway. Tap on "Continue"

Your order is shipped! Note that in-app tracking will not be available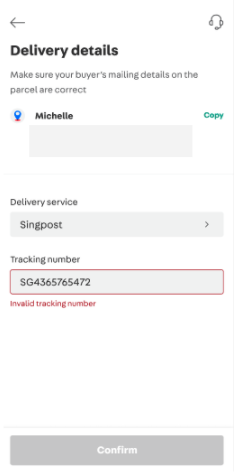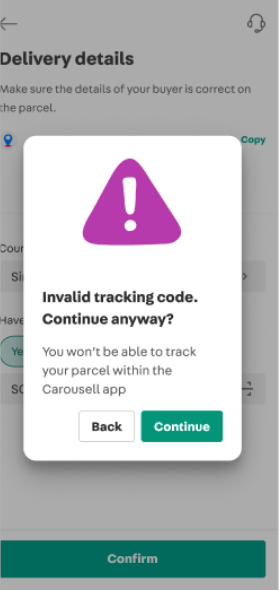 How do I proceed if I do not have a tracking code?
If you do not have a tracking number and/or you are not able to see the "Singapore Post (SingPost) basic mail" option, you can scroll to the bottom of the delivery partner list and select "Other couriers". Add in your delivery provider's name and tap on "confirm" delivery". A tracking number will not be required.
We encourage you to check in with your buyers if they received their item after 2 working days for tracked shipping and 4 working days for untracked shipping.