[Singapore] Fees and Payments
What is Carousell Protection fee?
Our goal is to provide you with a safe and secure buying experience. To be able to do that, we charge a small fee to buyers at 2.5% of the item and delivery price.
From 15 December 2020, Carousell Protection Fee has increased from 2% to 2.5%.Our goal is to provide a trusted platform so as to improve your buying experience. In order to do so, we will need to continuously update our platform with new features and products so as to provide a safe and secure buying experience for all our users.
We accept DBS PayLah!*, Singapore and international Visa/Master/American Express debit and credit cards.
For payments via DBS PayLah!, we're currently running a 2.5% discount for your purchase. This is how it'll look like on your payment summary page if you're paying withDBS PayLah!*: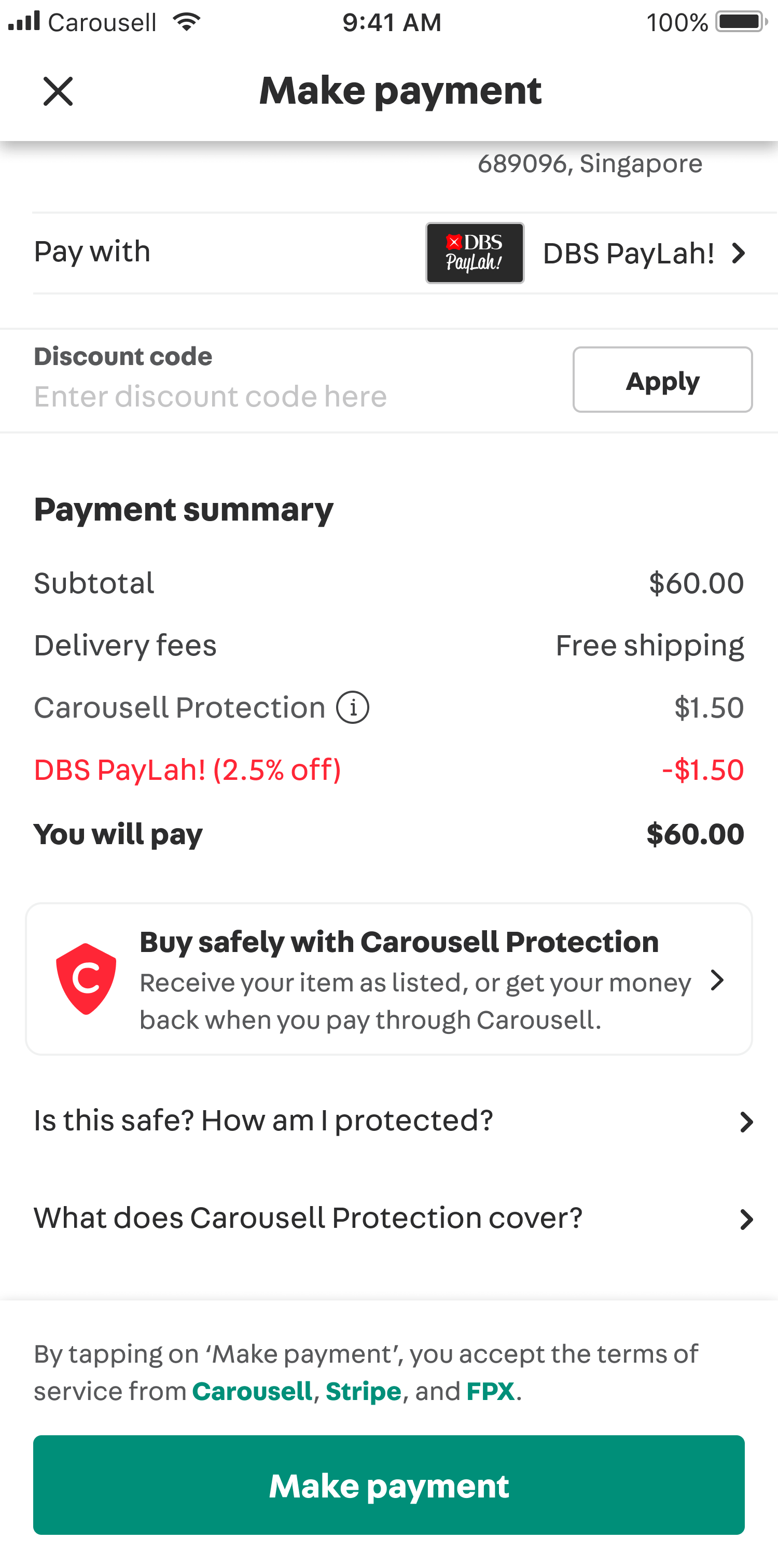 For sellers, Carousell Protection is free with no extra charges on your successful Carousell Protection transactions.
Carousell Protection fee is made visible on the payment summary page before you make your purchase.
*Note that the PayLah! wallet and daily transfer limit are capped at $999 by default and can be updated to up to $2000 for digibank users. If your transaction amount is greater than $2000, you will need to opt for payment via Debit/Credit Cards.
How do I set up my payment method?
Setting up your payment method is simple and fast. Set it up once and you are all set to Carousell Protection! Check out our step-by-step guide for buying with Carousell Protection.
Why is there a $0.50 charge when I add my credit card?
You will receive an authorisation charge of SGD$0.50 from the bank when you link your credit/debit card for good standing. Don't worry, this amount won't actually be charged and will not reflect in your bank statement.