[Singapore] InstantBuy Fashion Sellers
InstantBuy introduction and benefit for sellers
Signing up, seller requirements and eligibility
Listings on the marketplace (InstantBuy vs regular listings)
InstantBuy introduction and benefit for sellers
Project ReMall is now named InstantBuy.
1. What is InstantBuy (aka Project ReMall)?
InstantBuy is an elevated shopping experience that features a collection of high-quality listings by trusted sellers on the marketplace. Buyers can have an ease of mind knowing that items in the collection are always available and ready-to-ship. They can trust that the items will get to them safely, conveniently and as described.
Carousell will step in the transaction if the buyer receives an item that is not as described and facilitate eligible returns back to the seller and refunds to the buyer.
2. What is the difference between listing an InstantBuy listing and a listing in the usual marketplace? What is the benefit of joining InstantBuy?
As an InstantBuy seller, your InstantBuy listings will be featured and promoted with more visibility.
InstantBuy listings:
Have an InstantBuy badge
Have a condition report
Are eligible for returns facilitated by Carousell
Will be prioritised in search results when buyers search on the marketplace
Get additional visibility from Carousell's marketing campaigns that promote InstantBuy listings

InstantBuy sellers will get:
Complimentary access to Super CarouBiz* plan which includes:

List up to 2,000 listings
100 video listings
30 custom collections
Profile cover photo
Premium seller badge
Monthly business analytics
Quick reply and auto reply features
*More about CarouBiz: https://college.carousell.com/caroubiz/
Increased sales efficiency

Improved order management tools

Support team to handle your enquiries on priority
3. When is InstantBuy launching?
Really soon, in October!
Signing up, seller requirements and eligibility
4. I'm interested in being an InstantBuy seller, how do I join?
InstantBuy is an invite-only program. You may indicate your interest here: https://caro.sl/remall-signup. Our team will get in touch with you after reviewing your application.
5. What are the requirements to join InstantBuy?
Sellers are to provide a good experience for buyers:
Excellent track record—positive reviews, verified account, very responsive

Can ship items in a timely manner (within 5 days)

Is able to honour returns if item sold is not true to description

Mark listings as sold once they're not available on the marketplace
Sellers who have minimum 30 listings that fulfil all of the following:
Available and ready-to-ship items

Women's or men's fashion apparel only, in brand new or like-new condition

In-demand or unique fashion brands (e.g. local blogshop brands like Love Bonito, The Tinsel Rack, Young Hungry Free OR unique vintage/thrifted pieces)

High-quality listing photos
Sellers who are not able to fulfil the requirements while on the program will be notified and removed from the program.
6. Must I be a registered business or have a physical shop to join this program?
No.
7. Can I try it for a period of time before I decide to join the programme? How do I withdraw from the program?
If you decide to drop out of the program (though we hope you don't!), let us know at mall@thecarousell.com and we'll process the withdrawal in a month.
8. What is the onboarding process like?
Signing up → We will check your current seller standing and get back to you if you are selected to be a part of this program
Contract signing → Once your application is successful, you're sent a form to acknowledge that you've understood the terms and conditions
Listing → You will start seeing the new InstantBuy listing form. Start listing your items under InstantBuy or even edit existing listings to move them to InstantBuy. As per the InstantBuy seller requirements, please remember to have at least 30 listings with InstantBuy!
Start selling → We will let you know once we officially launch InstantBuy (around October). Till then, buyers will still see your listings but they will look like regular listings until the InstantBuy badge is up!
Listing on the marketplace (InstantBuy vs regular listings)

9. Can I still sell my other items in the regular marketplace if I am an InstantBuy seller?
Yes! As an InstantBuy seller, you'll see options on the listing form (in applicable categories) to list either a regular listing or an InstantBuy listing. Not all of your listings need to be InstantBuy listings.
This means you can still sell on the regular marketplace, as long as it's not the same item you've listed with InstantBuy. There should not be duplicate listings.
For items not eligible to be listed as an InstantBuy listing (e.g fashion items that are not in brand new or like new condition or items that do not belong to the Fashion category), they can be listed in the regular marketplace and will not have the InstantBuy option.
10. Do the 2,000 listings all have to be InstantBuy listings?
Nope, these 2,000 listings (one of the perks of your Super CarouBiz plan) can include both InstantBuy and regular listings!
11. What items can I list with InstantBuy?
The InstantBuy option will only be available in these categories:
Women's Fashion Apparel (excluding footwear and accessories)
Men's Fashion Apparel (excluding footwear and accessories)
While we are working to expand InstantBuy into more categories in the future, listings that do not fall into the above categories will not be accepted into InstantBuy.
12. It may be difficult to get measurements for products that are in their packaging. Can measurements be optional?
Providing product measurements would reduce the chances of buyers buying something that they cannot fit into. As such, it is a mandatory requirement for InstantBuy listings to have product measurements.
For items that cannot be measured due to it still being in its packaging, we recommend getting the measurements from the official website of the item you're selling!
Transaction fee
13. Is there a membership, listing or subscription fee?
To ensure your success with us, there will be no membership fees, listing fees or subscription fees!
We will only charge you a transaction fee after every successful transaction.
14. How much is the transaction fee?
7% of the total sale, including shipping fee.
For example:
| | |
| --- | --- |
| Dress | $8 |
| Shipping fee | $2 |
| Total | $10 |
| Transaction fee (7%) | $0.70 |
You will earn = $10 – $0.70 = $9.30
15. When is the transaction considered successful?
Once the buyer has received the item and no valid disputes are being raised by the buyer.
Payments & Shipping
16. How do payments work?
Buyers will place an order through Carousell Protection on your listing. Carousell Protection currently accepts the following payment methods: PayLah!, Debit and Credit Cards (Visa, Mastercard, American Express).
17. Must I use Carousell Protection? I am not sure how to use Carousell Protection.
Yes, all transactions must be made through Carousell's payment gateway. This is to help us facilitate the transaction and any returns or refunds for you.
Carousell Protection is really easy to use, simply enable it on your listings and you're good to go. Not to mention, you can get immediate commitment from the buyer!
If you need a step-by-step guide, check out the following links:
18. Who pays the shipping fee?
It's your choice! You can choose to add shipping fees to your listing or offer free shipping to your buyers.
If you choose to charge shipping fees, the price of your listing should not include the shipping fee. There will be a separate field in the sell form for you to add the shipping fee.
19. What are the delivery methods available in InstantBuy?
The delivery methods that we have integrated into our sell form are:
Same-day delivery (GrabExpress, Qxpress, etc)

Express delivery (2-3 days Ninja Van, J&T Express etc)

Standard delivery (4-5 working days - Normal and registered mailing such as SingPost)
If you're not using any of the above delivery methods (e.g self-delivery or meet-ups), you can choose the Custom courier option.
20. Can I do meetups instead?
Yes! But do note that payment should still go through Carousell Protection.
As you'll only see mailing/delivery as an option when you list on InstantBuy, you can enable the $0 (free) custom courier delivery as an option if you are open to doing meetups.
Returns
21. What is the return policy like for InstantBuy?
Buyers have the option to return the item if the item received is not as described. For example, it is a different size as listed, or there are damages that were not mentioned before.
Within 7 days, the buyer can request for a return on the order details page. A Carousell representative will get in touch with the buyer if the return is valid and will facilitate the return back to the seller.
The buyer will be refunded 100% of the transaction price, and Carousell will absorb the shipping fees involved in both the mailing and return. Sellers also do not have to pay the 7% transaction fee for returns.
For example,
| | |
| --- | --- |
| Dress | $8 |
| Shipping fee | $2 |
| Total | $10 |
| Transaction fee (7%) | $0.70 |
In the event of a return, the buyer will get $10 back, and the seller will receive the dress.
What if my buyer just 'didn't like the item'?
Change of mind is not a valid reason to return an item. Only if the seller fails to disclose certain information about the item on the listing details, a return is valid.
CarouBiz Subscription
22. If I'm already subscribed to CarouBiz, what happens to my existing CarouBiz plan?
You may cancel your existing CarouBiz subscription. Here are the steps to unsubscribe:
Important note: To successfully cancel your CarouBiz subscription, note that you'll have to unsubscribe via the same platform that you've subscribed to CarouBiz.
For example, if you subscribed to CarouBiz via your mobile device, you may cancel it via App/Play Store. If you subscribed to CarouBiz via Carousell web, cancel the subscription by going to your account on web.
For both iOS and Android, you can only cancel by going to the App Store (iOS) and Google Play Store (Android) subscriptions page. iOS and Android don't currently allow for subscriptions to be cancelled within the Carousell app.
iOS
Open the Settings app.
Tap your name.
Tap Subscriptions. (If you don't see "Subscriptions," tap "iTunes & App Store" instead. Then tap your Apple ID, tap View Apple ID, sign in, scroll down to Subscriptions, and tap Subscriptions.)
Tap the subscription that you want to manage.
Tap Cancel Subscription. If you don't see Cancel Subscription, the subscription is already cancelled and won't renew.
You may also refer to Apple's support guide to cancel your subscription.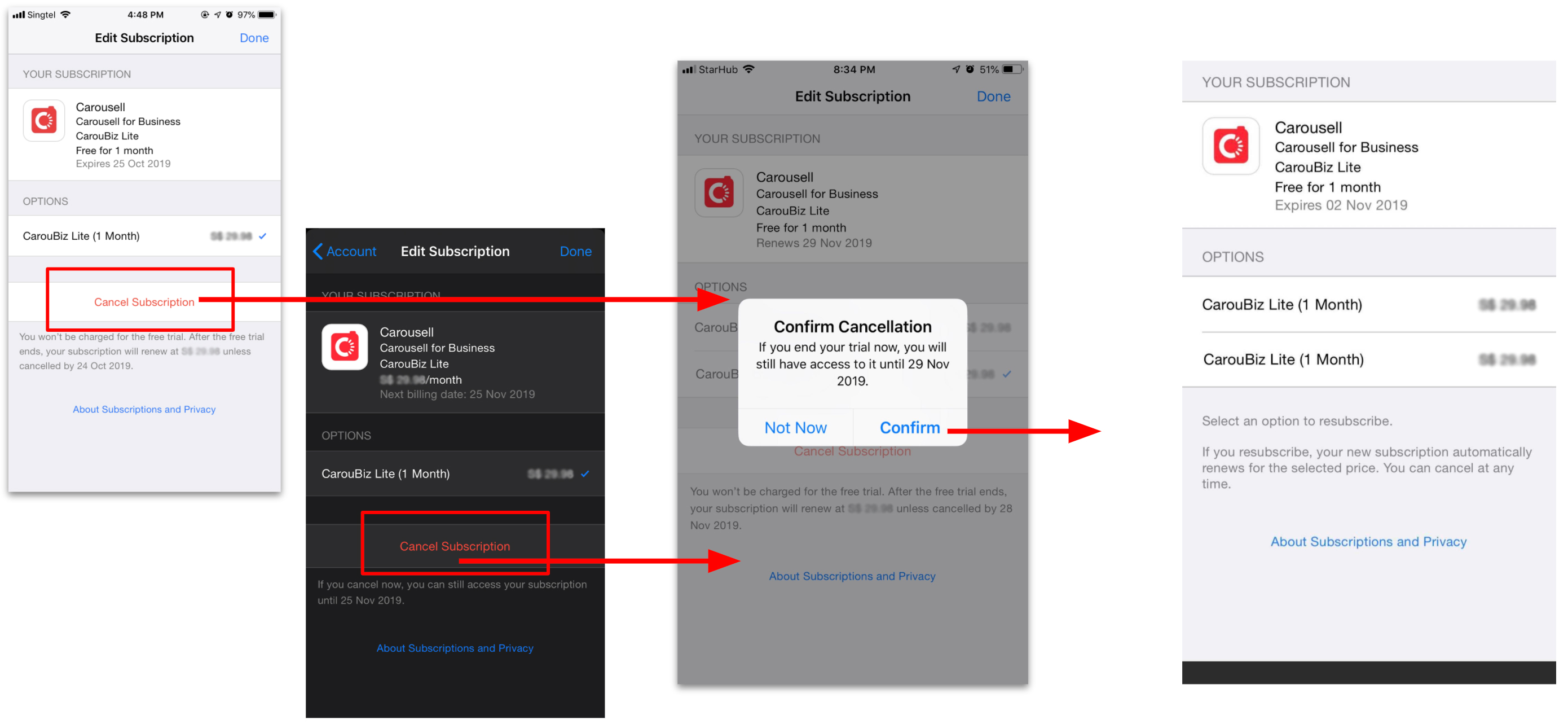 Android
On your Android phone or tablet, open the Google Play Store
Check if you're signed in to the correct Google Account
Tap Menu Subscriptions
Select the subscription you want to cancel
Tap Cancel subscription
Follow the instructions
You may also refer to Google Play's support guide for managing subscriptions.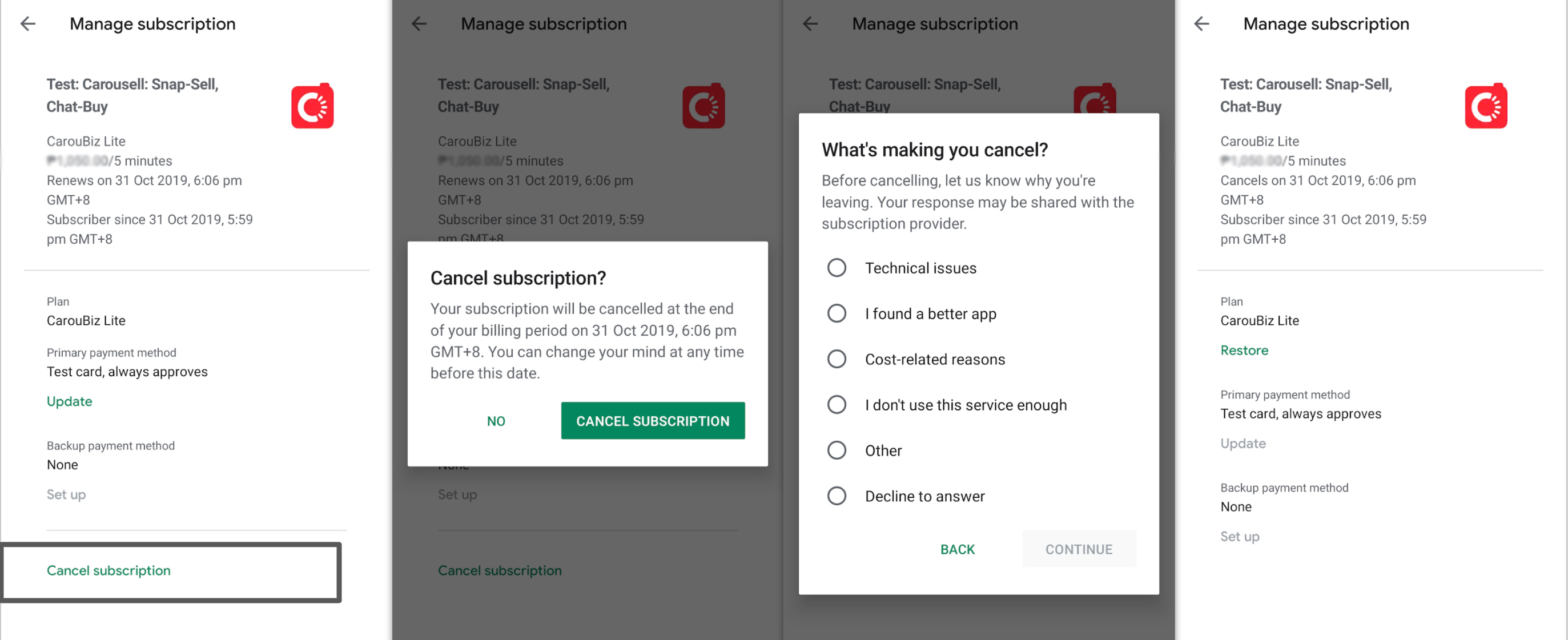 Desktop Web
Go to your profile
Tap CarouBiz on the menu
Click Manage Subscriptions
Select the subscription you want to cancel
Tap Cancel subscription
When your existing subscription ends, you'll be upgraded to Super CarouBiz plan and you will not need to pay for your subscription anymore.
As we do not process refunds for CarouBiz subscriptions (refunds are only done by Apple App Store / Google Play Store), there will be no refunds if you're midway through the month's subscription. However, once upgraded, you'll immediately enjoy the perks of a Super CarouBiz plan!