[Singapore] Delivery Rates Reference
Shipping rates are often calculated based on the parcel weight, size, and sometimes distance. Here are the local postage rates by Singapore Post, as of August 2021, for your reference.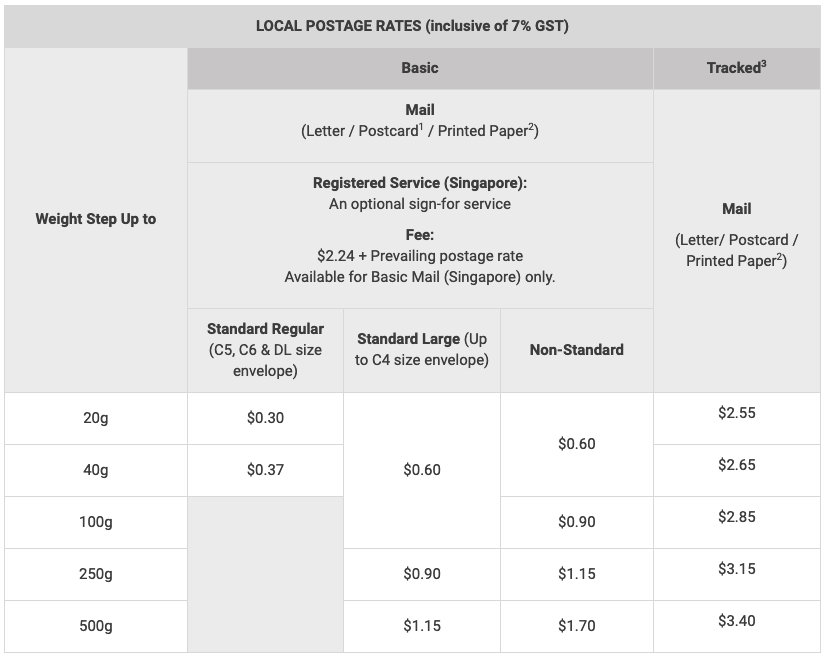 1 Postcards or mail items in card form will be considered as Standard Mail if dimensions do not exceed 240mm x 162mm with paper quality of at least 230gsm.
2 Printed papers include but are not limited to paper based items like annual reports, books, catalogues, direct mail, newspapers or periodicals.
3 Mail and packages sent via Tracked services must not exceed the maximum dimensions of 324mm x 229mm x 65mm and maximum weights of 500g for mail and 2kg for packages. Additional surcharge may apply for oversized and/or overweight items.
Note: These are just estimated shipping prices that you will need to pay to Singpost. Please double-check with your courier provider for a more accurate rate.