[Singapore] CarouBiz Billing & Payment
Hey Carousellers, we've compiled several frequently asked questions related to payments for CarouBiz subscriptions. 
How do I pay for a CarouBiz subscription? 
Tap on the 'CarouBiz Lite' button on your 'Me' page or in the 'Seller Tools' page.

Tap on 'Join now' at the bottom of the screen.

Tap on 'Subscribe now' at the bottom of the screen.

Your Apple App Store/Google Play Store will pop up if it is set up with a valid Credit Card linked to it. If not, you will be prompted to add a payment method. 

Click on 'Subscribe' (Android) or 'Confirm' (iOS) and you are all set to use CarouBiz.
Like most other subscriptions, CarouBiz subscription renews automatically unless you cancel it. After the 30-day free trial, you'll be charged for the subscription.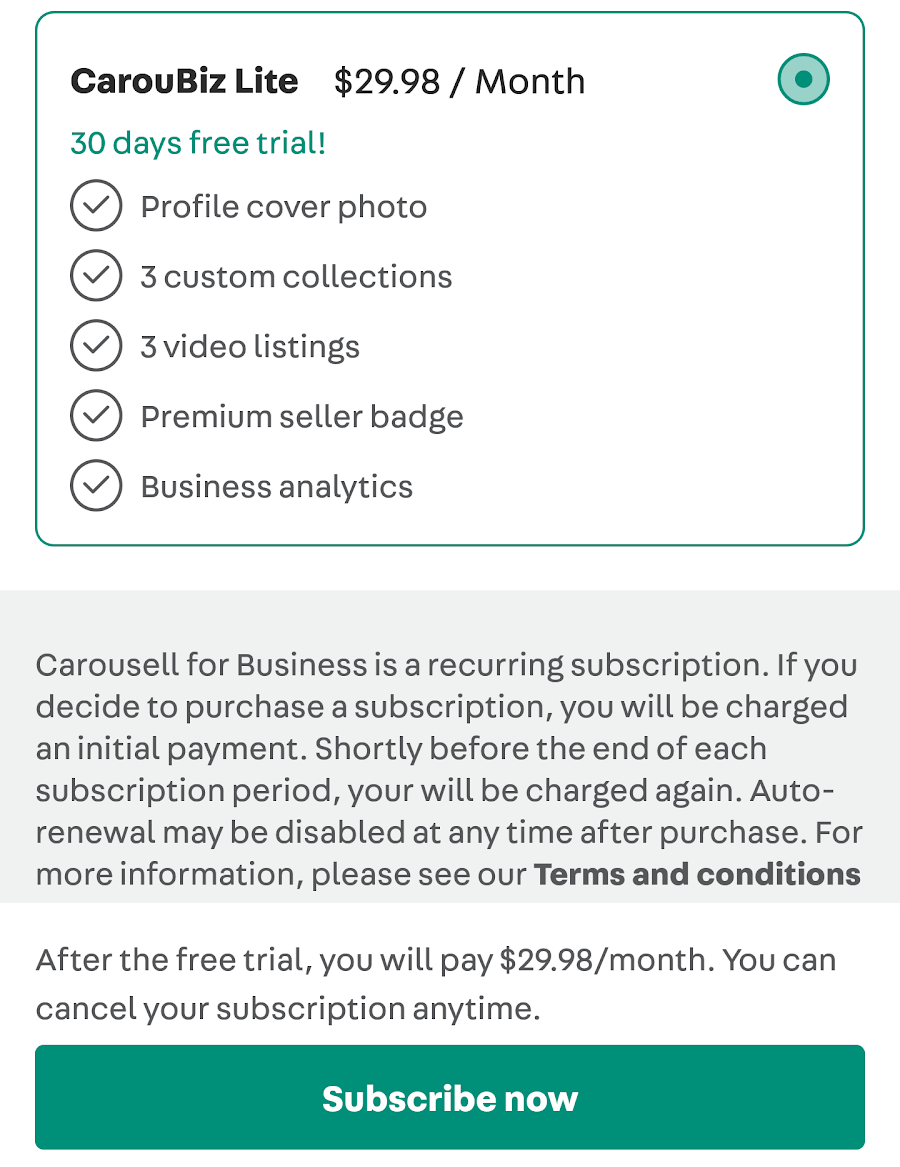 Can I get a refund for my CarouBiz subscription? 
No, CarouBiz subscriptions are non-refundable, as stated in our Carousell Terms and Conditions. CarouBiz subscribers are entitled to a 1-month free trial (for selected countries). After the free trial, your paying subscription will start.
There will also be no refunds of any Carousell Fees in the event that: (i) your Carousell account ("Account") is suspended or terminated due to a breach of these Terms; and/or (ii) any Content has been removed in accordance with Carousell's Terms of Service.  
If you're looking to refund your CarouBiz subscription due to an accidental purchase or other reasons, you may visit Apple or Google's support page. 
How do I cancel my current CarouBiz subscription?

For both iOS and Android, you can only cancel by going to the App Store (iOS) and Google Play Store (Android) subscriptions page. iOS and Android don't currently allow for subscriptions to be cancelled within the Carousell app.
After cancelling, CarouBiz will remain active until it reaches the expiration date. This means you'll still have access to the CarouBiz features until the end of the billing period. When the subscription expires, the CarouBiz features will be disabled and you won't be billed again unless you reactivate it. 
iOS
Open the Settings app. 

Tap your name. 

Tap

Subscriptions

. (If you don't see "Subscriptions," tap "iTunes & App Store" instead. Then tap your Apple ID, tap View Apple ID, sign in, scroll down to Subscriptions, and tap Subscriptions.)

Tap the subscription that you want to manage. 

Tap

Cancel Subscription

. If you don't see Cancel Subscription, the subscription is already cancelled and won't renew.
You may also refer to Apple's support guide to cancel your subscription.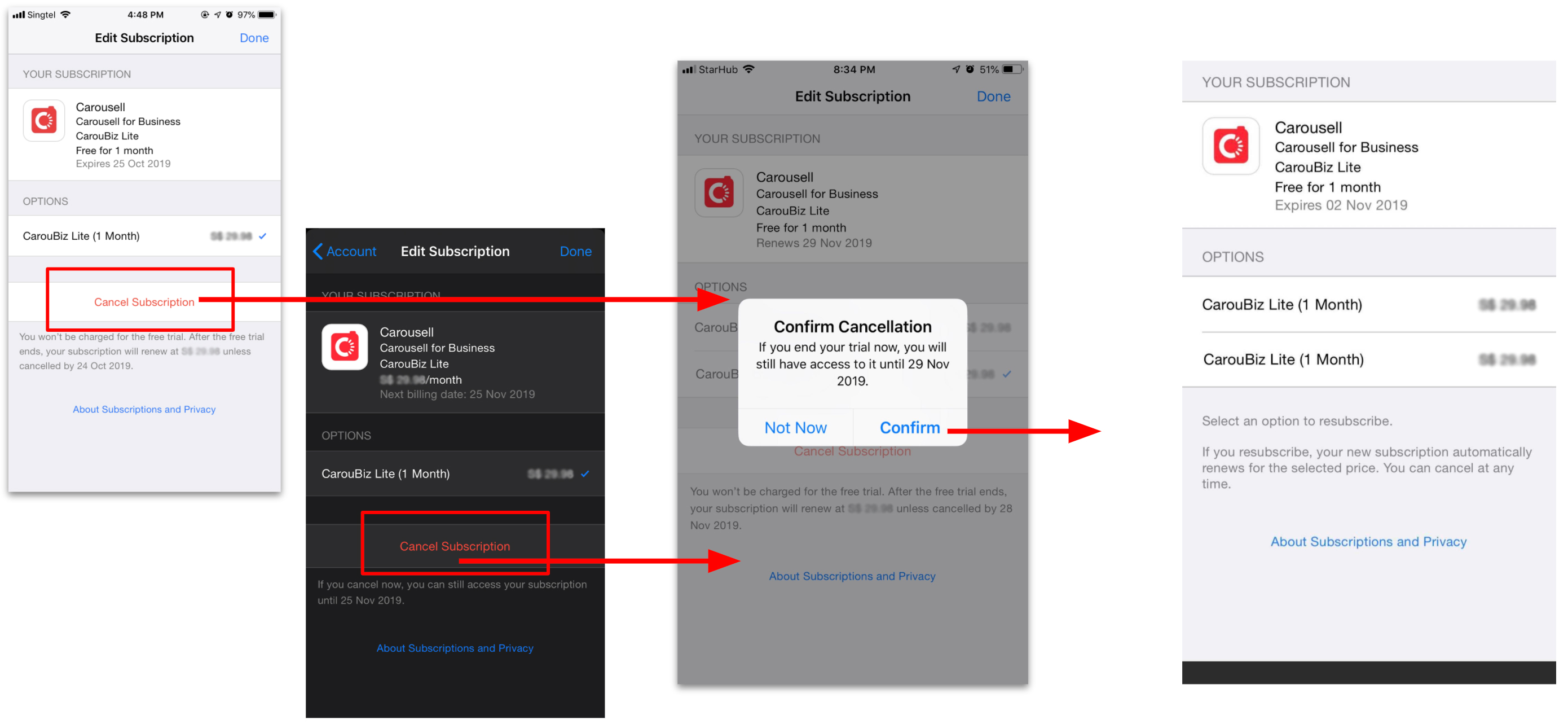 Android

On your Android phone or tablet, open the Google Play Store

Check if you're signed in to the correct Google Account

Tap Menu Subscriptions

Select the subscription you want to cancel

Tap Cancel subscription

Follow the instructions
You may also refer to Google Play's support guide for managing subscriptions.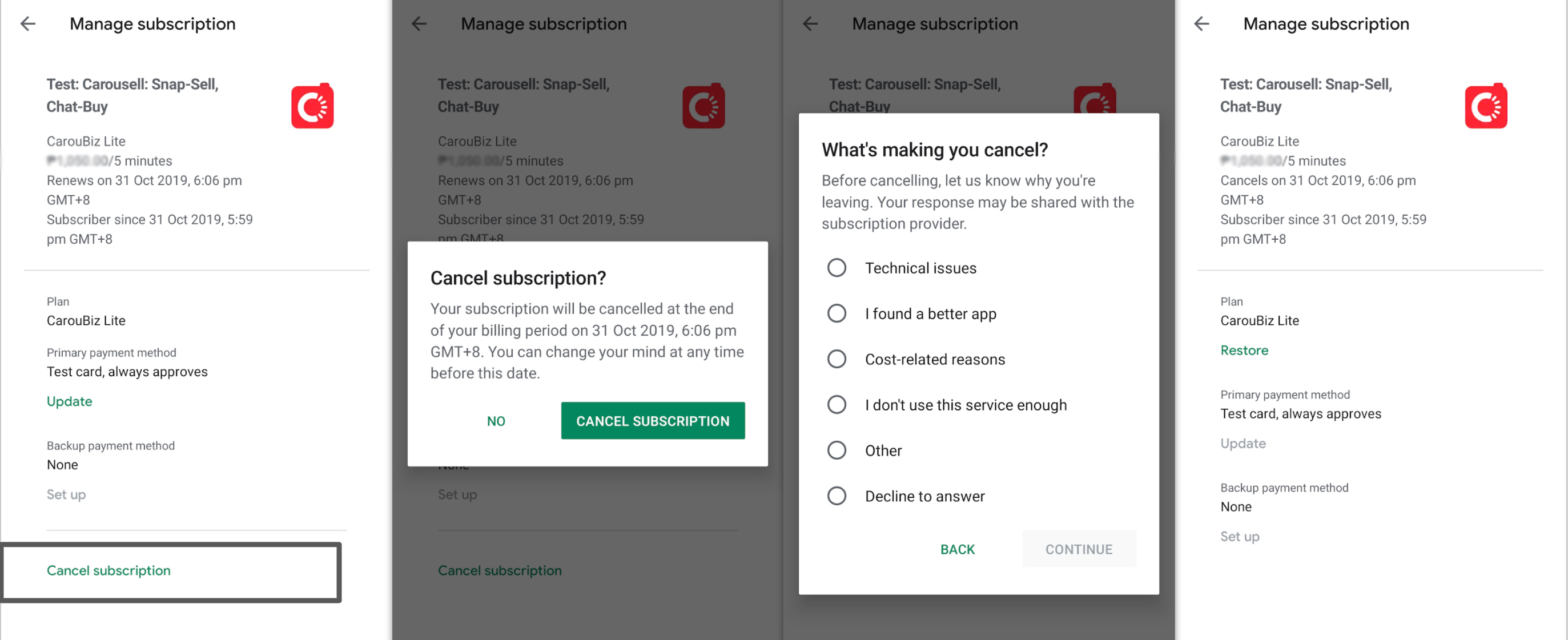 Where can I see the expiration date of my CarouBiz subscription?
You can see the expiration date under the 'Subscriptions' tab in either the App Store (iOS) or Google Play Store (Android).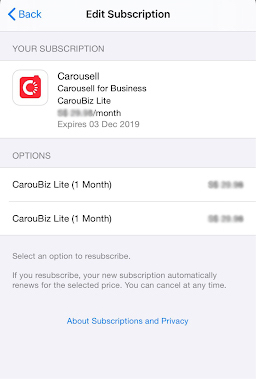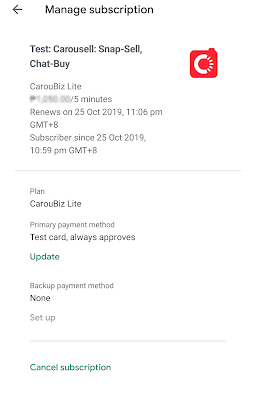 How do I know if I am on the free trial?
Under the 'Subscriptions' tab within the App Store (iOS) or Google Play Store (Android), it'll indicate whether you are on the free trial, and when it ends.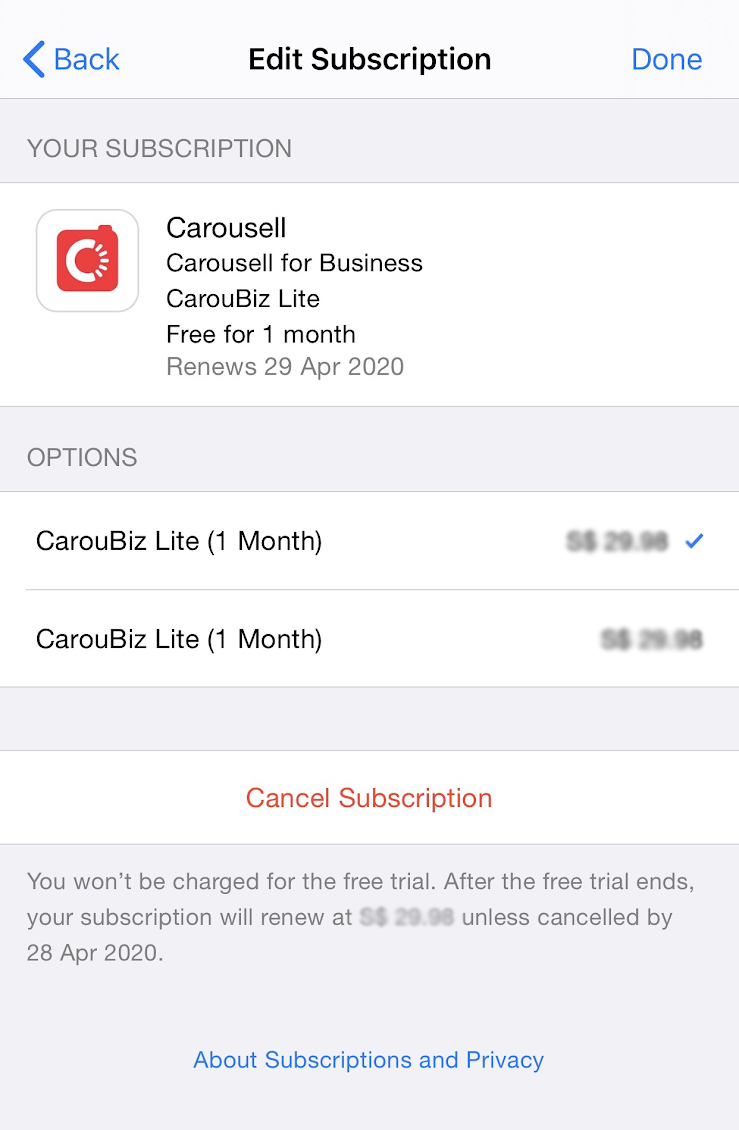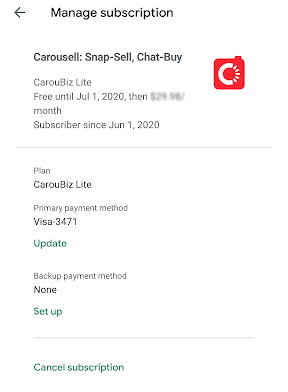 Why did I get charged? I have never subscribed to CarouBiz for my account.
As CarouBiz free trials are only eligible per App Store/Play Store account, you may have subscribed to a free trial previously on a different Carousell account.
Can I do a transfer of ownership of my CarouBiz subscription?
No. You will not be able to transfer ownership of your CarouBiz subscription to any other user.
How can I pay for my subscription with cash?
There is no way to purchase using cash. All payments for in-app subscriptions will be handled by Apple or Google, depending on the device you're using.
If this article doesn't cover your questions, don't hesitate to contact our team.