[Philippines] What is CarouBiz (Carousell for Business)?
Carousell for Business (CarouBiz for short) is a subscription to a suite of premium tools, designed to help grow businesses. These premium tools allow businesses to showcase their products like a virtual showroom, all within their Carousell profile!
What happens when I upgrade or downgrade my CarouBiz plan?
For upgrades (monthly to annual), the new plan will apply immediately and the billing date will be based on this new date. At the same time, you will receive a pro-rated refund of the older package back to your mode of payment.
For downgrades (annual to monthly), you'll enjoy the benefits of your existing plan till your next billing date.
What does CarouBiz Lite subscription plan include?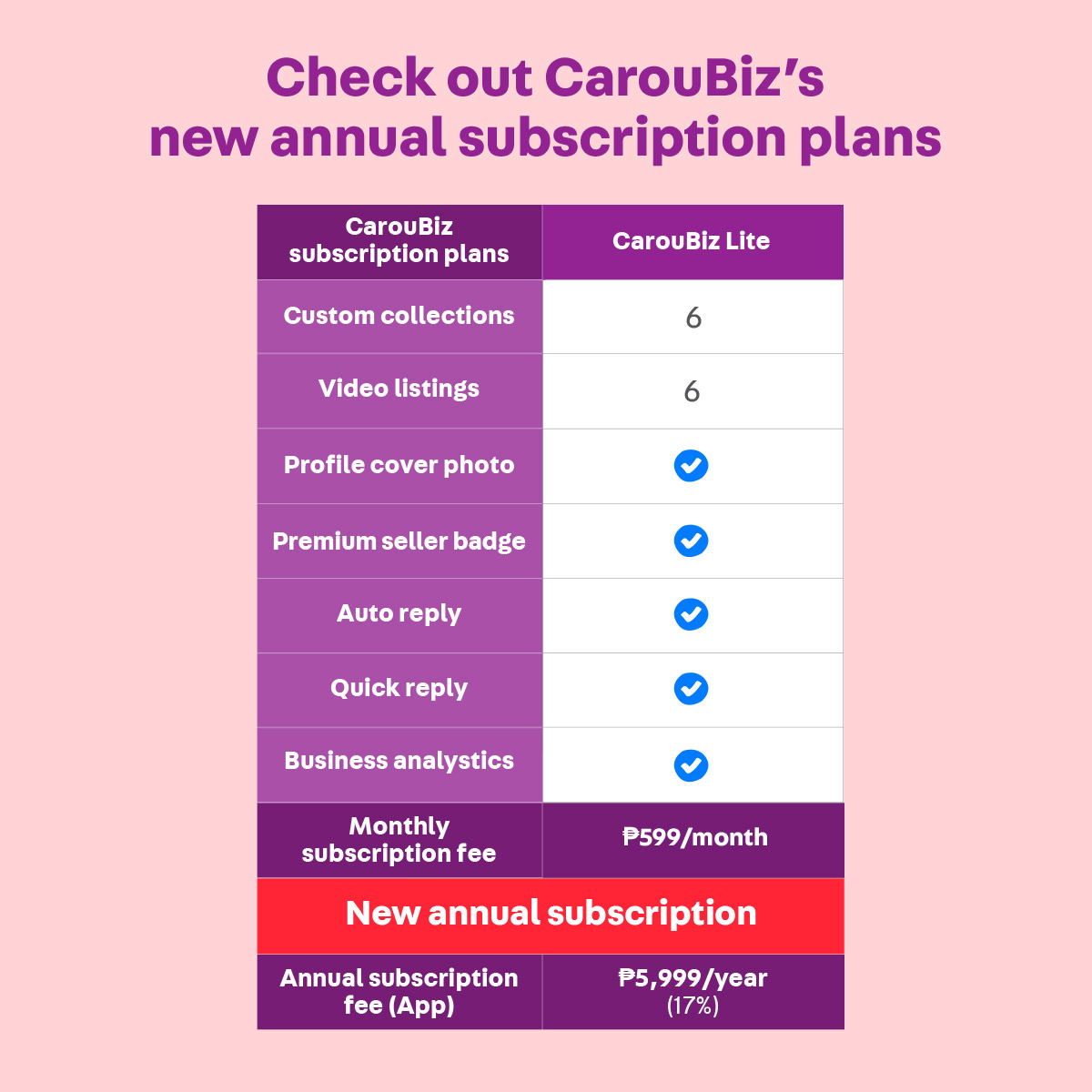 How do I subscribe to CarouBiz?
CarouBiz is currently only available on App, please update your Carousell app to the latest version to enjoy CarouBiz.
Go to 'Me' (Profile page)

Tap on 'CarouBiz'

Tap on 'Join Free Trial' to enjoy your first 30 days for free*!
*Free trial not applicable for annual subscription
How do I pay for my CarouBiz subscription?
You may make payment for CarouBiz through the allowed payment methods on the Apple App Store and Google Play Store. At the moment, payment using Carousell Coins is not available.
How do I cancel my CarouBiz subscription?
You can manage your subscription through your Apple App Store or Google Play Store and choose to unsubscribe. After your current subscription period ends, you will no longer be charged for the following subscription in the next month.
You will continue to enjoy the benefits until your current subscription period is over. After that, you will no longer have access to the CarouBiz features.