Seniors Go Digital: Buy and Sell on Carousell
This article is written by Carousell in conjunction with Seniors Go Digital, an initiative of IMDA to encourage our seniors to take their next step in going digital. For more information about the campaign, please visit https://www.imda.gov.sg/for-community/Seniors-Go-Digital.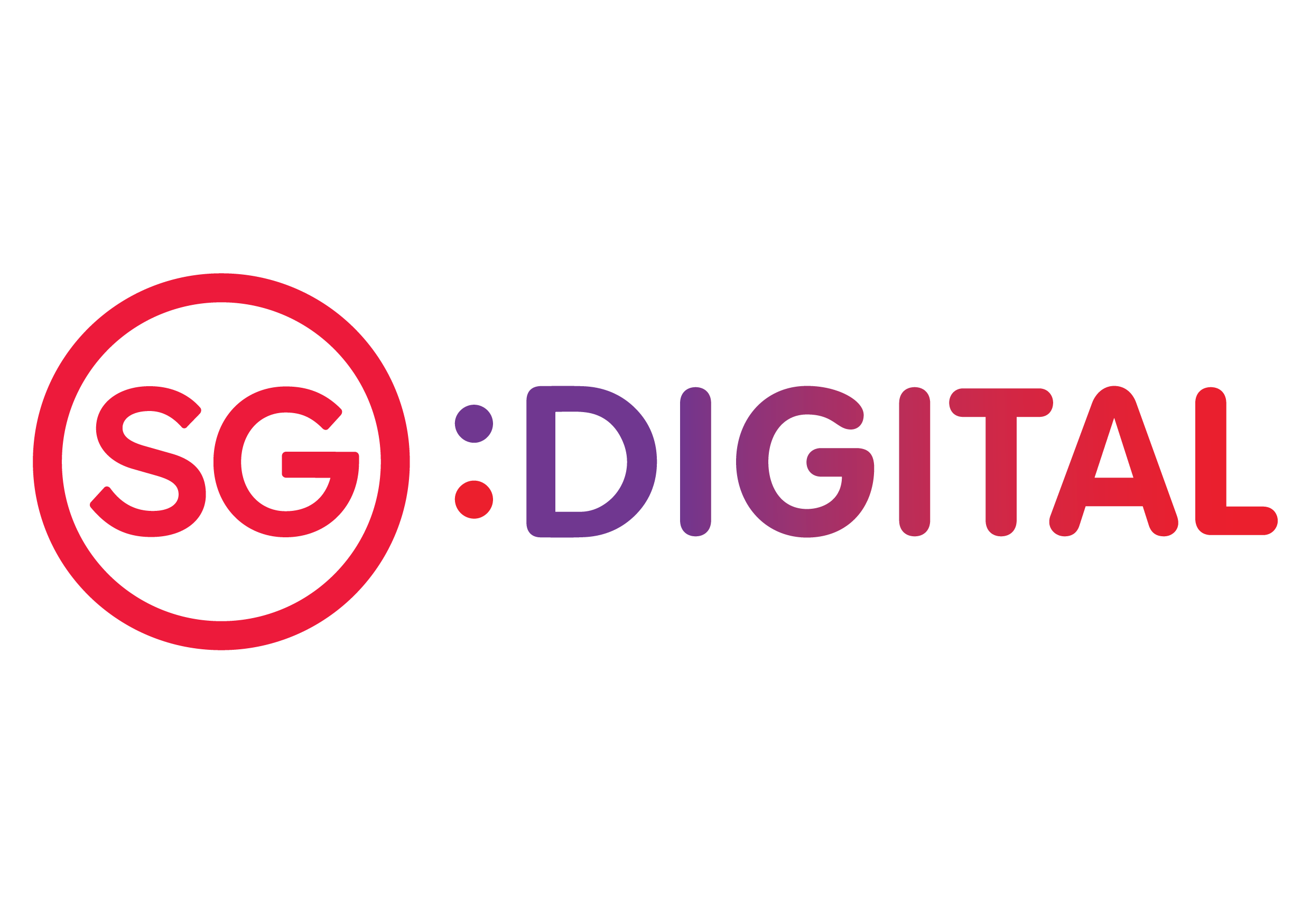 Carousell is the easiest platform out there to sell the clutter in your life and find great deals to save you cash! List something for sale in 30 seconds and buy what you need in a chat. Best of all? Enjoy shopping and selling digitally and safely from your own home.
How to set up a Carousell account
How do I transfer the money in my balance to my bank account or debit card?
Giving away items for free on Carousell
How do I buy with Carousell Protection?

Things to note when using Carousell Protection
Buy food to support local hawkers on Carousell
How to set up a Carousell account
Step 1: Download the Carousell app for free from the App Store or Google Play Store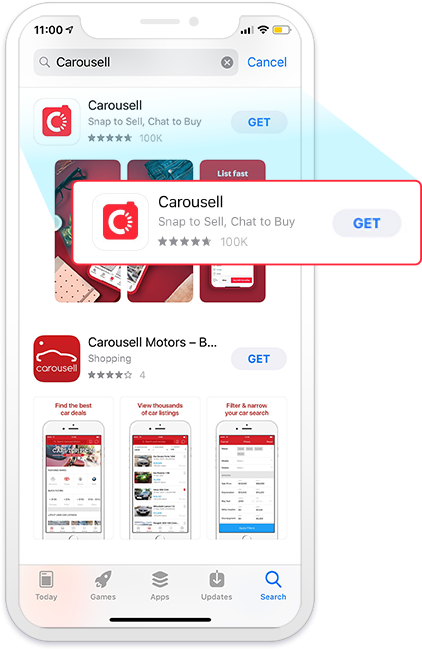 Step 2: Sign up for an account with Facebook or by using your email address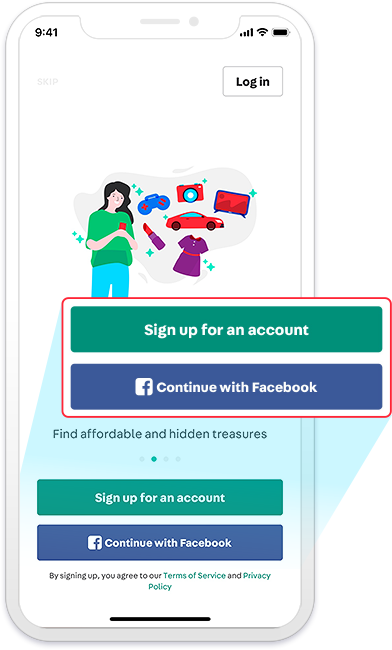 Step 3: Choose your Carousell username and password, fill in your details, then tap on "Create my account"
Check your email inbox for the password verification email, and activate your account once you receive it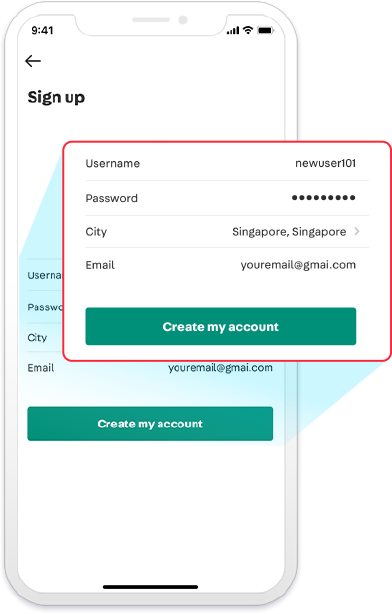 Step 4: Spend a few minutes on your Carousell profile. Add a profile picture so that other community members can know more about you.
Once done, you are now ready to use Carousell!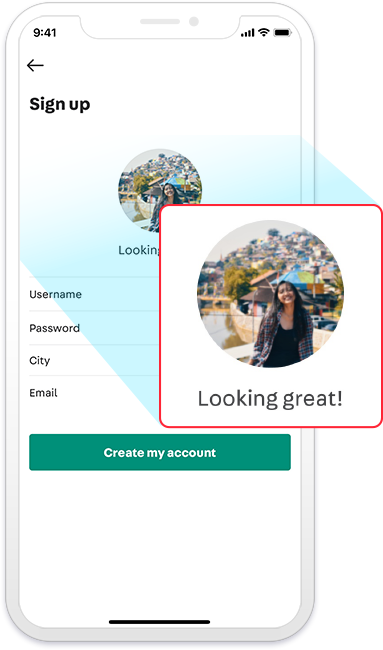 Start selling on Carousell!
Step 1: To start selling, tap on the sell (+ icon) button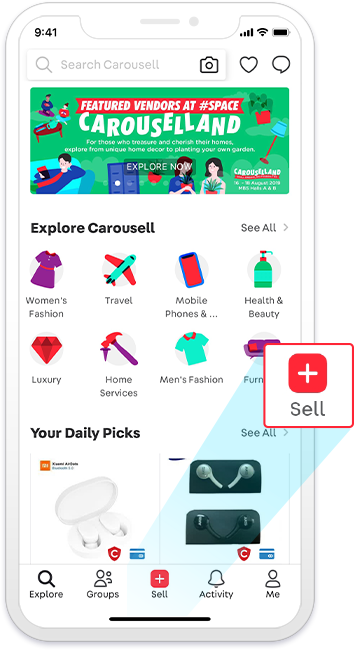 Step 2: Use your in-app camera to take a photo of the item you want to see or tap to select photos from your camera roll
Post up to 10 images per listing!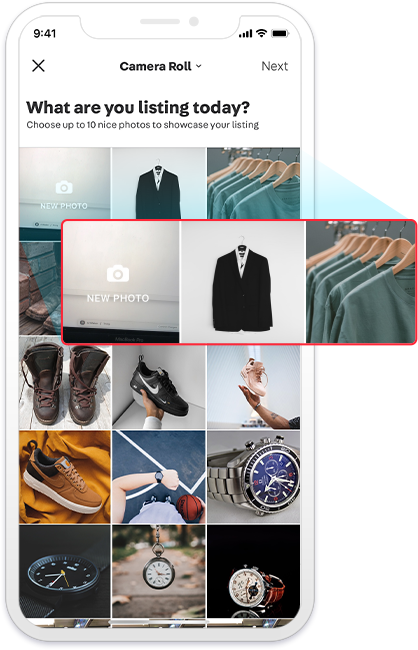 Step 3: Use the in-built photo editor to adjust the colour, tone, brightness, sharpness and orientation of the image.
You can add filters, which add a certain colour and tone, too! Adjusting your photo may make it look more attractive to buyers, but you don't have to do it if you feel your image is good enough. Once done, tap the tick on the top right hand.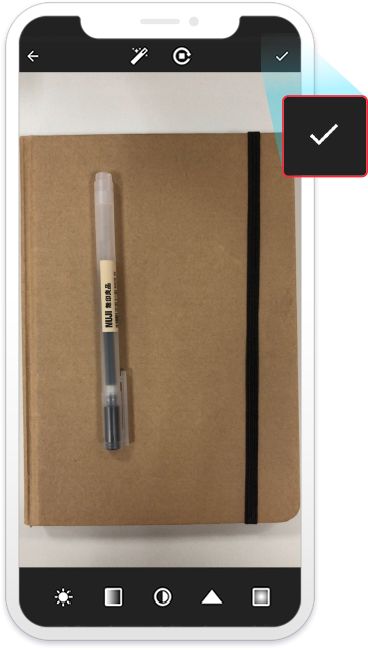 Step 4: Select a category, and enter a title for your item and the price.
Add more details in the description such as the condition of the item, any scratches or defects so that buyers have enough information to make a decision.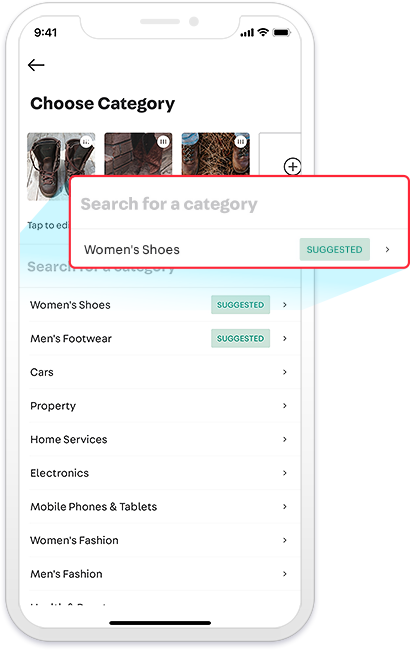 Step 5: Choose your preferred dealing method; via delivery with Carousell Protection or Meet-up.
Feel free to choose both to enable more options for your buyers. Do note that delivery options must be arranged on your end as the seller. Many buyers choose to send their buyers their items via SingPost. To enable Carousell Protection, tick the checkbox to enjoy delivery with Carousell Protection. If you prefer to do meet-ups, do also tick the Meet-up with Carousell Protection checkbox under "Deal Location".

What is Carousell Protection?
Carousell Protection is an in-app payment feature that allows payment for items bought on Carousell through the supported payment methods. Your money is safely held until the item is confirmed to be received as listed.
Enable Carousell Protection when you sell to ensure buyers commit to their purchase.
If your buyer would like the item mailed to them, tap to 'Confirm Deal' and proceed to prepare your item for mailing. Once you have mailed out the item, tap "Item mailed out" to notify your buyer.
*You have 6 days to confirm and mail out the item. Otherwise, the order will be cancelled by the Carousell system.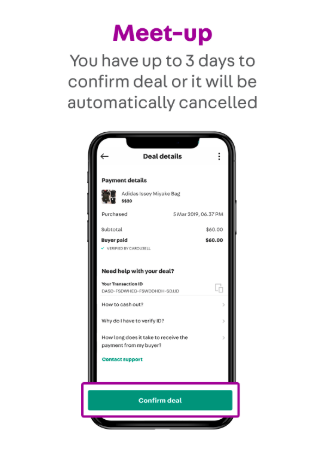 If your buyer has chosen to meet up to collect the item, only tap on "Confirm Deal" after finalising the meet-up date and location.
You will receive the payment in your balance once your buyer has confirmed that they have received the item as listed or automatically 7 days after the item is mailed out/deal is confirmed.
How do I transfer the money in my balance to my bank account or debit card?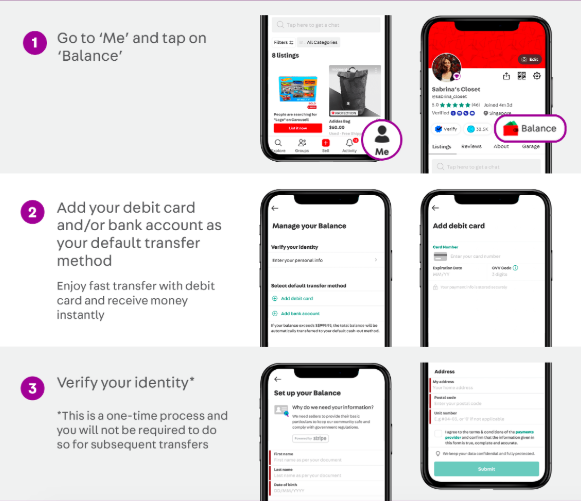 For more information on how to sell with Carousell Protection, take a look at our step-by-step guide.
Special Offer: From now till the end of April, list your items up for sale on Carousell and stand a chance to win up to $30 NTUC Vouchers and be featured in our Special Collection to sell even faster! Check it out here.
Giving away items for free on Carousell
You can also help others by giving away your items for free, to those who need it more. List your item in the 'Free Items' category! For more details about this campaign, watch this video.
Buying on Carousell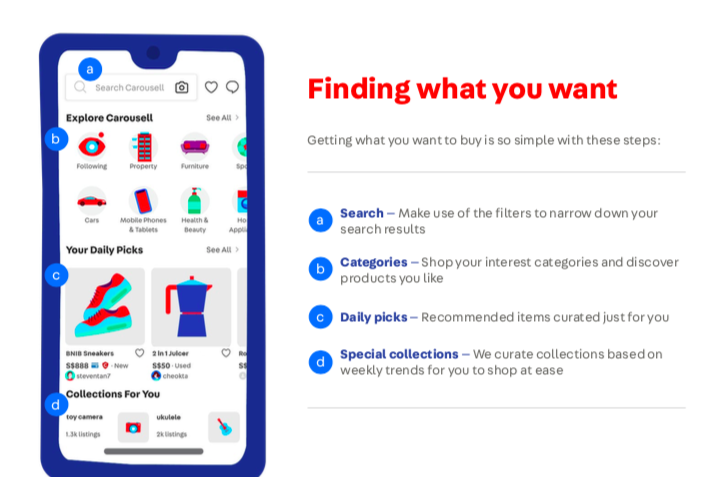 Pro tip! You can also use the Filter and Sort function to find what you are looking for faster and more accurately.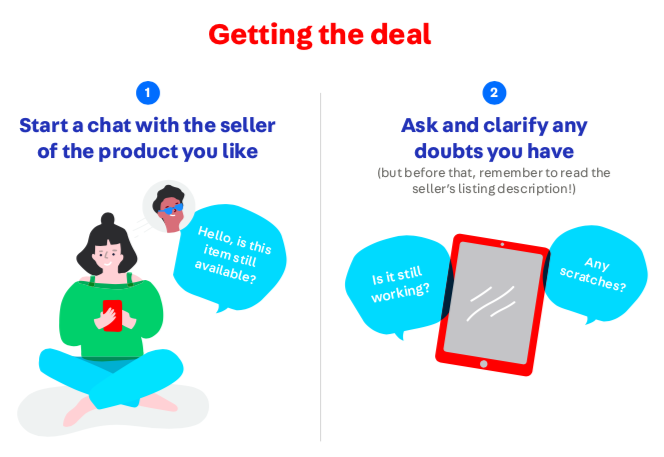 Once you have found what you are looking for, tap into the listing and chat with your seller!
Pro tip! Always ask for more information so you can make a more informed decision! Use the in-app camera function to ask for more photos from the seller.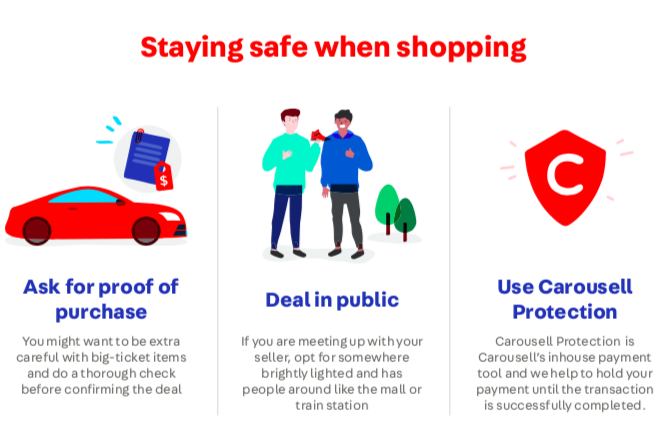 Ensuring that you're protected while buying on Carousell is our top priority. Here are our top 3 tips for dealing safely on Carousell.
How do I buy with Carousell Protection?
Step 1: Set up your payment methods on your profile. Choose to pay by DBS PayLah! or via debit/credit card (a third party service fee applies).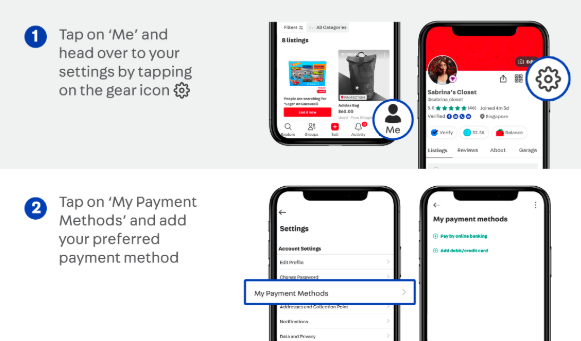 Step 2: Look out for listings with the "Protection" logo to identify listings that are Carousell Protection enabled, or simply ask the seller to enable Carousell Protection for your listing.
Tap on "Buy Now"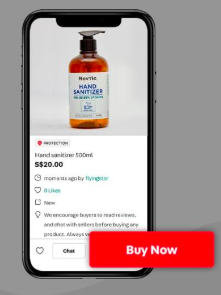 Step 3: Choose your preferred deal method (mailing or meet-up) and payment method. Ensure that your mailing address is correct. Apply any discount codes available and tap on "Make Payment"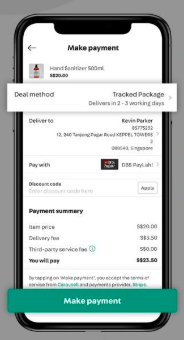 Step 4: If you have chosen for the item to be mailed to you, track your delivery progress in-app!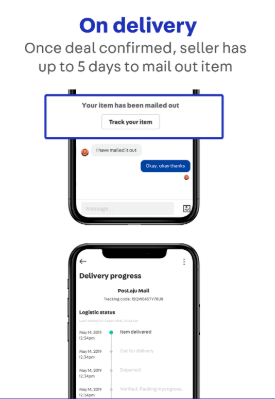 Step 5: If you have chosen to meet-up, simply meet up with your seller within 7 days and do ensure that you check your item during your meet-up.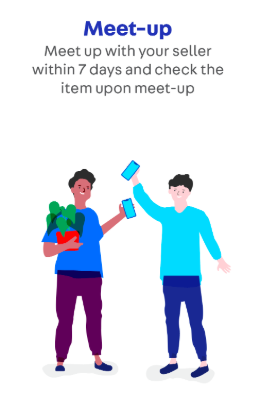 Step 6: Once you have received the item, make sure that you tap on "I have received my item" so that the payment will be released to the seller!
Check out our step-by-step buyer guide to Carousell Protection here.
Things to note when using Carousell Protection!
If you use Carousell Protection, do take note that as a seller, you do not immediately get payment from the buyer. Carousell holds payment until the buyer confirms they have received the item.

Carousell Protection is absolutely free for all sellers! However, if you're a buyer, do note there is a processing fee of 2.5%.

When you use Carousell Protection as a buyer and you face issues with your purchase, raise a dispute with your seller before the order is completed and choose to either get a refund or an exchange.
Buy food to support local hawkers on Carousell
You can support local hawkers, by buying food from them on Carousell! Browse your food options in the 'Local F&Bs' category. For more details, check out this listing.