As the name suggests, Bump Scheduler is a new (and highly-requested) feature that helps you schedule your Bumps. Select the days you want your listing to be bumped, the number of Bumps each day, and you're good to go!
Is there a limit to the number of Bumps I can schedule?
You may schedule Bumps up to every day of the week, for a maximum of 8 weeks. There is no limit to the number of listings you can schedule Bumps for.
Can I schedule a time for my Bumps?
Currently, the option to schedule a time for your listing to be Bumped is not available. Your listing will be Bumped based on the time you schedule your Bump and will follow the same timing for subsequent Bumps. E.g. If I schedule my Bump for Wednesday at 1pm today, my listing will be Bumped at 1pm on Wednesday.
Tip: Schedule your Bumps at the time you want your listing to be Bumped!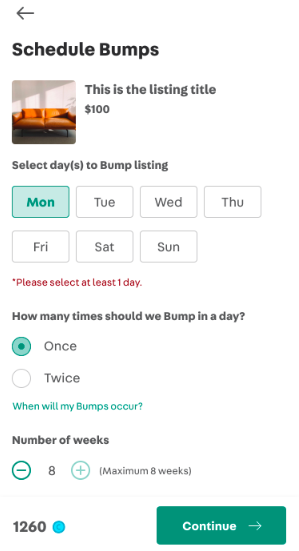 Can I use Bumps and Spotlight at the same time?
Yes, you can use Bumps along with Spotlights.
Note: Unlike Spotlight, Bump is a non-refundable purchase. Hence, we recommend using the Bump Scheduler only for listings (products) that you have multiple quantities of.