How do I verify my ID when cashing out?
In order to receive payments from your buyer you will need to set up your wallet and verify your identity. Kindly follow the instructions below to facilitate the process.

Go to "Me"

Select the "Wallet" icon

Tap on the "Settings" icon at the top right-hand corner

Tap on "Enter your personal info" 
To ensure that your verification goes smoothly, make sure all of your details are accurate, and that the images of your personal identity documents are clearly taken.

Please note that this is a one-time process and you won't be required to do so again for subsequent cash-outs.  
What is the difference between Carousell Coins and Wallet?
Carousell Coins can be used to purchase in-app Carousell Ads such as Bumps, Listing Fees and Spotlight. Carousell Wallet allows you to receive payments when you sell via CarouPay.
The two features are unrelated.
Can I use the money in the wallet to buy coins or other items on Carousell?
Funds in your Carousell Wallet cannot be used to purchase other items on Carousell or be used to pay for features, such as Bumps and Spotlight.
How long is the cash out process?
The entire cashout process should take less than 24 hours, depending on when the buyer has received the item.

Once order is completed > Funds to be transferred from pending to available balance in Wallet (less than 24 hours) > Tap on Cash Out > Money to be transferred to bank account (up to 4 days, depending on bank) or Debit Card (Instant)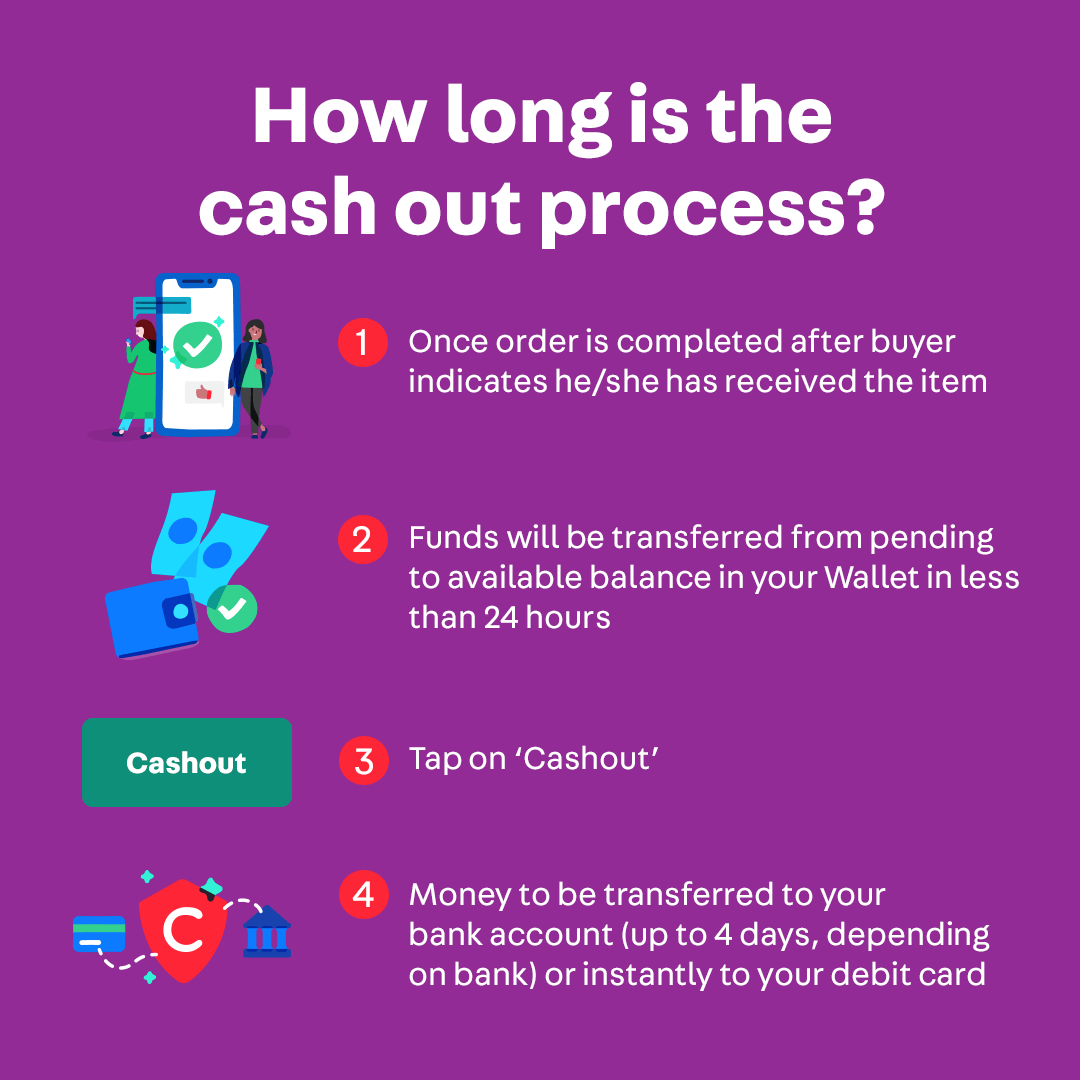 As an example: if a buyer indicates that the item was received on Monday, payment will be released into sellers' Carousell Wallet on the same day. If seller initiates the 'Cash Out' process on Monday, and the funds will be transferred to the selected bank account by Friday. 

For sellers who choose Debit Cards as their default cash out method, funds will be transferred to the selected debit card instantly after initiating cash out. 
Due to internal control and security measures, we are unable to expedite the Cash Out process in any circumstance.
*NEW* Automatic cash-out of funds from Wallet
From 21 August 2019, if your Available Balance in Wallet is $1000 or more, the total balance will be automatically transferred to your default cash-out method within 24 hours.

For automatic cash-out of funds more than or equal to $1000, do ensure that you have completed your identity verification within your Wallet and chosen your default cash out method. For users who have yet to complete the above, the funds will remain in your Wallet as 'Pending Balance'.
To change your default cash-out method, simply tap on your Wallet > "Settings" icon > Select default cash-out method.
No charges will be incurred for manual and automatic cash-outs.