To establish a clear policy on which advertisers will be allowed access to advertise on Carousell Properties i.e. Desktop, Mobile Web, and App. This covers both programmatic, PMP, and direct sales channels.
1. Not Allowed
1.1 Prohibited/Sensitive Categories:
Ads for goods/services which fall under our prohibited items list will not be allowed to be in line with our marketplace guidelines. In addition, categories which are sensitive by their very nature will be blocked:
Black Magic and Astrology
Cosmetic Procedures and Body Modification
Religion
Dating Services
Related to any political campaign or candidate, controversial social issue, politician or event widely perceived to be political in nature (including, without limitation, elections, protests, terrorist attacks, wars and conflicts)

1.2 General Classifieds Direct Competitors
Merchant marketplaces, e-commerce/classifieds websites, and apps for buying, selling or trading used or preloved goods.
General classifieds websites and apps such as Gumtree, eBay, Craigslist, and Locanto for buying, selling or trading used or preloved goods.
B2C shopping platforms for used and preloved goods such as Reebonz, Style Tribute, Refash, Shopee
1.3 Verticals Direct Competitors
For markets who are pursuing expansion in verticals, such as SG and HK, competitors in the cars, properties, jobs and services verticals will also be blocked. These include second-hand cars marketplaces, properties classifieds and portals for jobs and services.
Second hand cars marketplaces such as SGCarmart, Carro, DBS Car Marketplace etc.
Classifieds for buying and selling of properties such as PropertyGuru, 99.co, Spacious 千居
Job portals such as Jobstreet, JobsDB, Fastjobs, Wantedly
Services portals such as ServisHero, Helpling and Vaniday
1.4 Ads with inappropriate content
Content that is deemed to be offensive and contradictory to Carousell brand​:
Unclear call to action/ messaging​
Advertiser or destination not as represented within the ad​
Unclear font (too small)​
Fake web page functionality such as HTML Drop Downs or Search boxes
Mimicking Carousell page content​
Use of Carousell in text or use of the Carousell logo (without prior authorization)​
"Fake Winner" copy​
They may not be advertising direct competitors or products from sensitive categories, but have mature or sensitive content (e.g. sex toys, excessive skin, suggestive or offensive text and imagery).


1.5 Advertisers that conflict with strategic/exclusive partnerships
If there is a contractual obligation in place stipulating that exclusive access to Carousell's Properties is to be given to a partner, advertisers who pose conflict of interest to said partner will be blocked during the period that the agreement is in effect. For example, DBS, OCBC and other banks will be blocked when an exclusive partnership with UOB is in effect.
1.6. B2C merchant marketplaces selling competitively priced new items
Advertisers such as, but not limited to, Amazon, Lazada, ezbuy, Taobao and Qoo10 are not allowed. For retargeting, PMP and direct deals, refer to Clause 2.4 below.


2. Allowed
Advertisers that fall into these categories will be allowed only if they do not fulfill the conditions to be categorised as a direct competitor. (Refer to Checklist in Appendix)
While advertisers from most categories below can be considered as competitors to sellers in the respective categories in Carousell, we will allow them for the following reasons.
Excessively blocking advertisers impacts fill rates and negatively impacts revenue given that most online advertisers are online retailers
Consumer Barometer survey by Google that indicate that most users are online to research online in their purchase cycle. (Refer to Appendix)

Big online publishers like Amazon and OLX have very short blocklists on account of this and saw no impact on transactions by adopting open ad policy

2.1 General Categories - Non-Competitors
Concerts, exhibitions, theatre, festivals and organizers such as National Gallery, Esplanade, Singapore Sports Hub, and online streaming sites, TV/movie subscriptions and cinemas such as Cathay Cineplexes, Netflix, and Spotify.
Pubs, bars, nightclubs, parties and events such as ZoukOut and Sentosa Siloso Beach Party, provided the requirements in Section 1.3 are met.
Banks such as DBS, UOB, OCBC, robo-advisors such as Stashaway, personal finance helpers such as Seedly, or fund houses such as Aberdeen Asset Management of Philips Capital. They will be blocked in the event of exclusivity.
Food, Groceries and Food Delivery
Food and beverage brands, food delivery services and supermarkets such as Toastbox, McDonald's, Redmart, NTUC, UberEats, Deliveroo
Internet service providers and telecoms such as Singtel, Starhub, M1, Circles.Life
Law & Government
Law firms and government agencies such as Ministry of Education, Ministry of Health, Health Promotion Board
News, Media & Publications
Print and digital newspapers, publications and catalogues such as The Straits Times, TODAY, SPH Magazines as long as they are in line with standards as stipulated in Section 1.3
Hotels/accommodations, airlines, travel agencies, travel booking sites and tourism campaigns such as Airbnb, Marriott Hotels, Singapore Airlines Group, Agoda, Chan Brothers.


2.2 General Categories - Indirect Competitors
Fashion Apparel
Brand advertisers, non-merchant marketplaces and B2C shopping sites selling first-hand/new items such as Charles & Keith, Net-A-Porter, ASOS, Zalora, Love Bonito.
Beauty and Personal Care
Brand advertisers, non-merchant marketplaces and B2C shopping sites selling first-hand/new items such as Sephora, Strawberrynet, Watsons
Computers and Consumer Electronics
Brand advertisers, non-merchant marketplaces and B2C shopping sites selling first-hand/new items such as HP, Asus, Microsoft, Challenger, Harvey Norman etc.
Brand advertisers, non-merchant marketplaces and B2C shopping sites selling first-hand/new items such as Playstation, Nintendo, Book Depository, etc.
Home and Furniture, Garden
Direct advertisers, non-merchant marketplaces and B2C shopping sites advertising first-hand/new items such as Courts, IKEA, HipVan, Crate & Barrel, Castlery, Fortytwo
Direct advertisers, non-merchant marketplaces and B2C shopping sites advertising first-hand/new items such as Nike, Adidas, JD Sports. We will also allow advertisements for sports/fitness studios, amenities and membership passes such as Anytime Fitness, Pure Yoga, Guavapass
2.3 Verticals - Indirect Competitors
Public sector job recruitment (e.g. Join the Singapore Navy, MOE teaching recruitment), educational institutions like universities and language schools such as NUS, Kaplan, UniSIM and online learning programs such as Datacamp, Udacity and Udemy.
Property
Overseas property developers and non-residential real estate (industrial, retail, offices) developers such as Capitaland.
Vehicles
Direct brand advertisers for new/first-hand vehicles such as Mercedes, Toyota, Hyundai.


2.4 B2C merchant marketplaces selling competitively priced new items (Applicable for Retargeting, PMP and Direct Deals)
Advertisers include, but are not limited to, Amazon, Lazada, ezbuy, Taobao and Qoo10
PMP and Direct Deals: Allowed on a case-by-case basis, refer below
Programmatic Non-Retargeting Ads: Not allowed, refer to Clause 1.5 above
Programmatic Retargeting Ads: Allowed, refer here on identifying retargeting ads
Visual and messaging guidelines for PMP and Direct Deals
Visuals and/or messaging must not put Carousell in a bad light. Examples of ads reflecting poorly on Carousell include but are not limited to:

- Ads insinuating that Carousell, or the buy/sell experience on Carousell, is not effective for buyers or sellers, thus resulting in the need for another product/service (E.g. "Can't sell your stock on Carousell? Why not store it in XYZ Warehouse for a low price?)

-Ads insinuating that Carousell, or the buy/sell experience on Carousell leaves much to be desired, compared to the product/service being advertised (E.g. "Tired of buyers turning up late for meetups? Try ABC low-cost courier service today!)


Visuals and/or messaging does not promote sell angle. Must not target Carousell merchants and sellers, asking them to sell on other platforms.


Visuals and/or messaging must not violate Carousell's Community Guidelines or have inappropriate creatives (showing excessive skin, adult content, gory images of blood and violence etc.). Refer to IMDA's guidelines

here

.


Contextual targeting will be allowed, contingent on the size of direct or PMP deal. Minimum threshold is set at >S$100k.


For massive sales or peak promotional seasons such as 11.11 Singles Day and Christmas, first banner spot for Special Collections is off-limits for Direct and PMP Deals.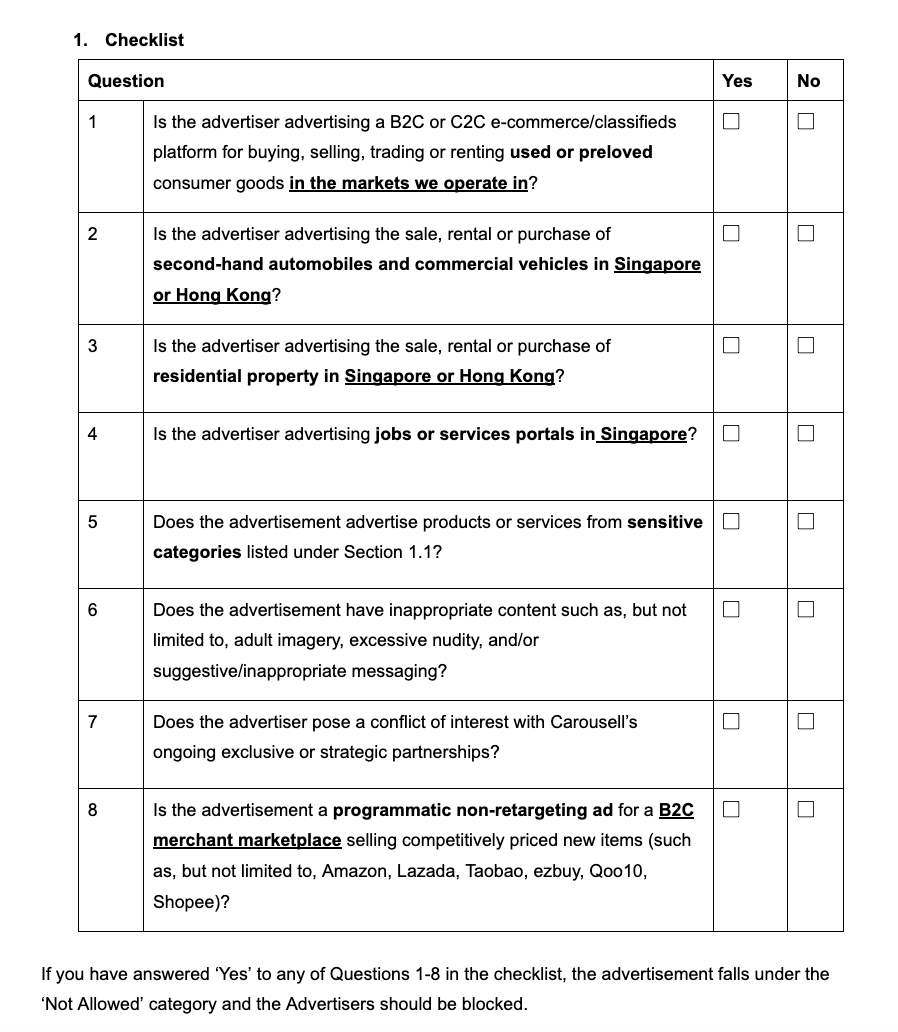 2. Rationale for allowing other non-direct E-Commerce Ads
Consumer Barometer Report for SG that explains online shopping behaviour
People looking for used/ second-hand goods at lower prices on Carousell will not find it on these sites.
Potential buyers on Carousell are researching online anyway before making a decision (41% of shoppers research online before purchasing online), so we do not lose customers by having ads from e-commerce companies, which they will anyway visit as part of their purchase cycle. Ads will open in a new window, so we are not taking them away from our site.
Think about the % of users on Carousell that browse vs buy (contact seller to make a purchase). Chances are that a majority of page views are from "browsing sessions", and by placing targeted ads, we are capitalizing on an exit point.
High bids by non-direct competitors would add to the auction pressure, even if their ads don't show up on your site. Thus, by purely having them in the mix of advertisers (without blocking them) would help increase eCPM and drive Carousell's ad revenue.
70% of consumers make initial product discovery online and 97% of Users don't transact on any given site.
Source: "Advancing Trade Marketing In The Digital World", Google, Feb 2017
3. Rationale for blocking sensitive categories
Black Magic and Astrology
Black magic, astrology and other categories based on superstitious beliefs may go against certain religions such as Christianity. For reasons of religious sensitivity, such ads will not be allowed.
Cosmetic Procedures and Body Modification
Although cosmetic procedures may be legal and come from licensed doctors and surgeons, they still pose risks of harm and complications. Ad creatives for body modification procedures also tend to be non-aesthetically pleasing (e.g. tummy tuck).
Religion
Visitors and users of Carousell websites and apps have different religious beliefs. To avoid being seen as promoting one religious agenda over another, all advertisers or advertisements relating to religion will be blocked.
Dating Services (Straight and Gay)
We have received several user complaints about dating service ads. There are different points of contention. In light of this, all dating service advertisements, will be blocked.