[Singapore] What are the Platform fees for sellers?
When you sell a listing successfully, you'll be charged a small platform fee. This fee goes into operational, marketing, and customer support costs, allowing us to build the best selling experience for you.


Listings with 'Buy' button
Starting 18 September 2023, we'll be charging a 2.5% Platform fee on every successful sale in the Video Gaming category via the 'Buy' button. This will affect existing and new listings that transacted from 18 September 2023.


How will the platform fee be charged?

The Platform fee will be automatically deducted from earnings after each sale, and the remaining earnings will be credited to your Carousell balance. This will be done automatically and shown in the Order Details Page once the order is completed.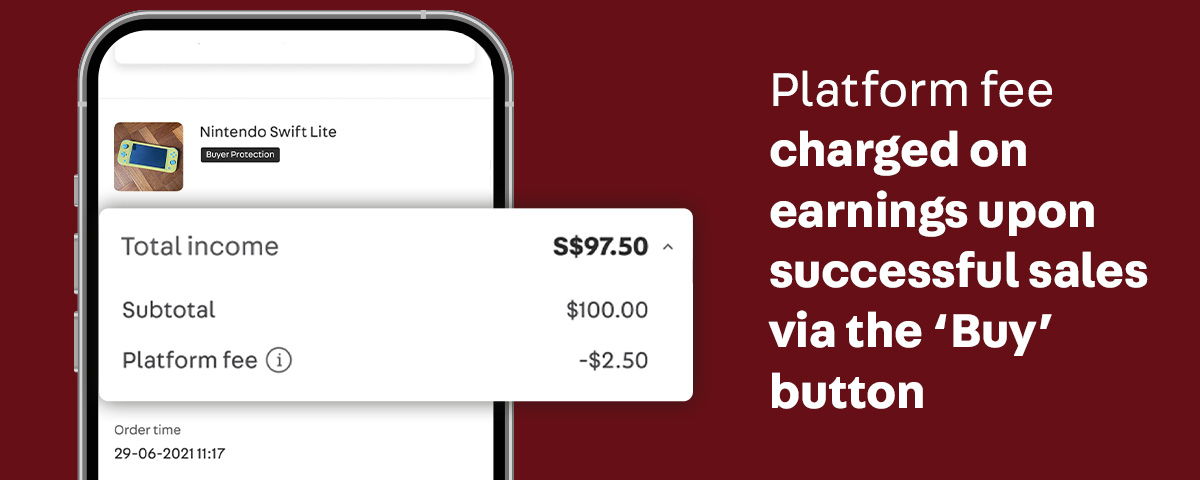 How can I find out the breakdown of my earnings?

You can edit your existing Video Gaming category listing and see the breakdown of the earnings under the 'Price section'. You can try to change the listing price to see the amount of Platform fee (2.5% of listing price).


Platform fees will be waived for sellers with Carousell Sales Assisted package
We'll be waiving the platform fee for sellers with active Carousell Sales Assisted packages. Sellers will not be charged with the platform fee when their listing gets sold via the 'Buy' button in the Video Gaming category.

Listings with Certified
The Certified platform fee is a percentage agreed upon based on your contract and calculated from the sum of the Item price + Delivery fee. The platform fee is GST inclusive.
Example of how the platform fee will be calculated;
Item price: $1000
Delivery fee: $15
Platform fee at 5%: $50.75
Your earnings: $923.65
With BNPL
If your buyer made payment via Atome, a BNPL (Buy Now, Pay Later) fee will also be deducted from your earnings. The BNPL fee is 4% of the item price + delivery fee.
Item price: $1000
Delivery fee: $15
Platform fee at 5%: $50.75
BNPL fee at 4%: $40.60
Your earnings: $923.65