[Malaysia] Category-based listing quota for selected goods categories
From 10 July 2023*, all sellers will have a monthly quota in selected categories as we aim to make these categories more accessible and fairer to more sellers. Quota refers to the number of listings you can create or mark as active each month. Listings activated by quota will not expire.
*Listing quota is already in effect in the Mobile Phones & Tablets categories as of 12 Apr 2023
Category
Sub-category
Free quota every month
Mobile Phones & Gadgets

Mobile Phones

5

Tablets

5

E-Readers

5

Wearables & Smart Watches

5

Mobile & Gadget Accessories

30

Walkie Talkie

5

Other Gadgets

5

Hobbies & Toys (in effect 10 Jul)

30

Men's Fashion (in effect 10 Jul)


30

Women's Fashion (in effect 10 Jul)


30

Beauty and Personal Care (in effect 10 Jul)


15

Computer & Tech (in effect 10 Jul)


10

TV & Home Appliances (in effect 10 Jul)


10

Jobs (in effect 10 Jul)


0

Services (in effect 10 Jul)


0
The new category-based listing quota system only applies to the above stated categories. There will be no quota system for the rest of the goods categories*
*excludes Autos and Property
Will my existing active listings be impacted?
No, all active listings in the above stated category will remain on the marketplace unless marked as sold, deleted, or removed for moderation reasons.
Will my unused quota accumulate?
Unused quota will not accumulate.
If the free quota is unused, it will reset to the original number of free quota on the next refresh date.
For paid additional quota that is unused, it will be removed upon expiry. There will be no extensions for these quotas.
Can I transfer my quota to other categories?
No, each quota is allocated to a specific category and is not transferable across categories.
What if I want to list more than the allocated amount of quota for the category?
You have 2 options:
Wait for your monthly free quota refresh, or
List them right away by purchasing additional quota for the specific categories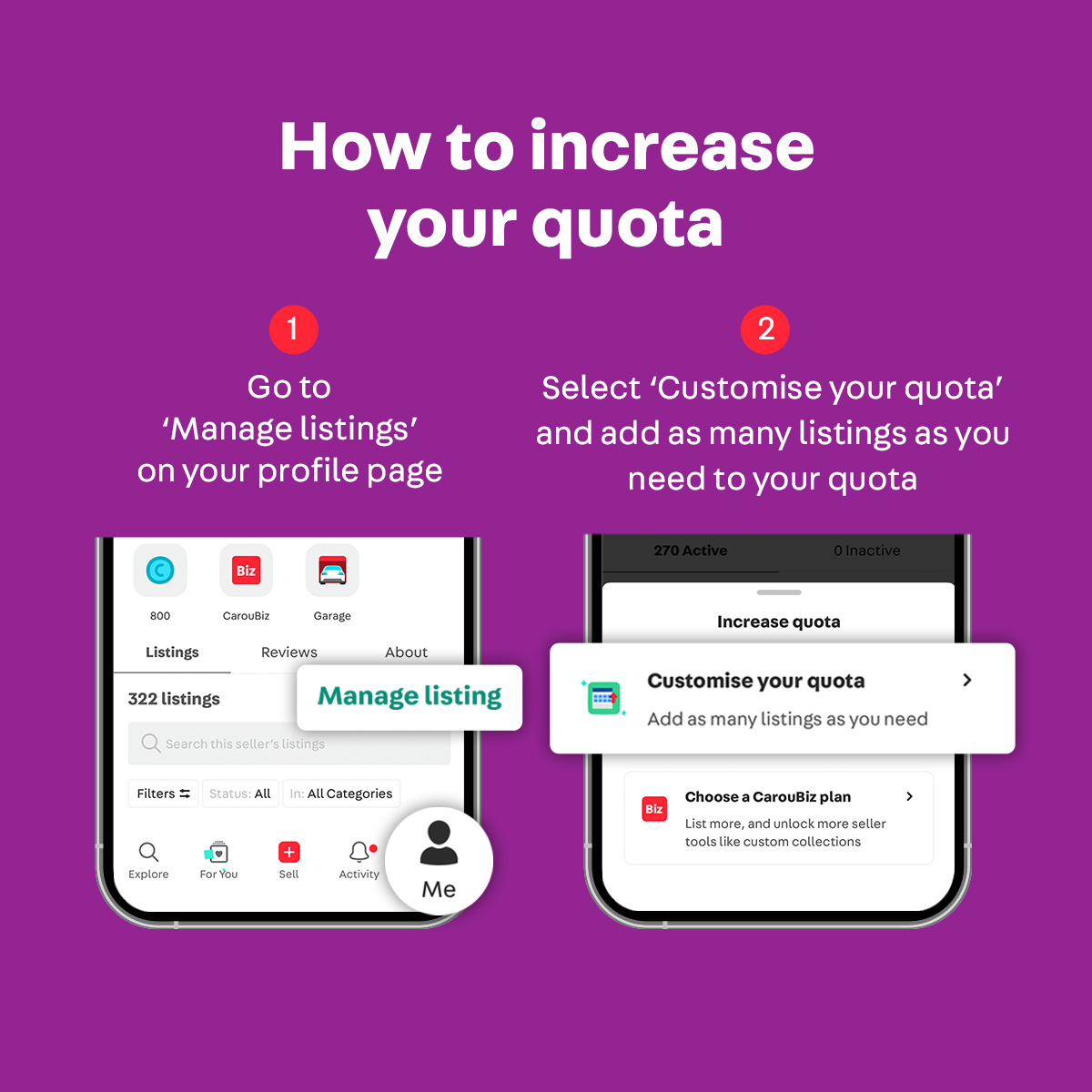 What happens when my listing is active or inactive?
Listings can be either active, inactive, reserved or sold.
| | |
| --- | --- |
| Active | Buyers can see these listings, make an offer or start a chat with you. Only active listings can be found and promoted on the marketplace. |
| Inactive | Listings that exceed quota will not be shown when buyers search or browse. You'll not receive new chats or offers for them. |
| Sold/ Reserved | Listings that you've marked as sold or reserved can be seen on your profile, but buyers can no longer make an offer or chat with you. |