Sell your Luxury handbags to Carousell
Save time and effort by simply selling directly or consigning your luxury bags & wallets to Carousell. Made possible with Ox Luxe, a subsidiary of Carousell.
How does Sell to Carousell work?
Step 1: Fill up the sell/consign request form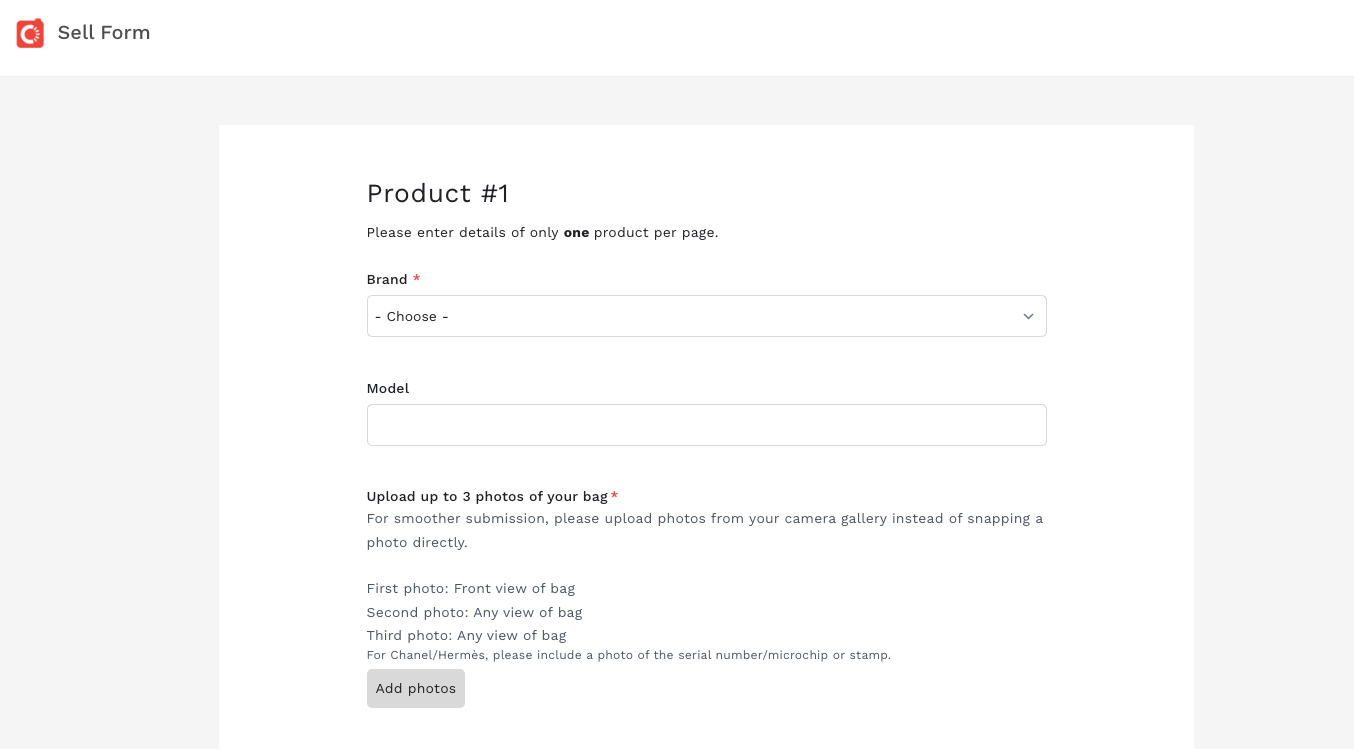 To simply sell or consign your luxury bags & wallets to Carousell, simply fill up this request form with the necessary information.

Step 2: Our merchandisers will reach out to you in 3-5 working days
For direct selling: If your item is within our accepted range, you will receive our best buy-in price based on the brand, model, color, condition, serial number, etc.
For consignment: If your item is within our accepted range, you will receive our suggested selling price based on the market price for the brand, model, color, condition, serial number, etc.
Step 3: Schedule a collection at your convenience
If our prices are agreeable, we will schedule an item drop-off in our office. We also offer home pickups if you are selling more than 3 bags. We will then share our final buy-in price or consignment price depending on the item condition after a round of inspection by our merchandising team.
Step 4: Receive your payment!
For direct selling, payment will be made via PayNow within the same day.
For consignment, payment will be issued within 7 working days after your item is sold.
About brands & models
What are the range of brands accepted?
We only accept Balenciaga, Bottega Veneta, Burberry, Celine, Chanel, Chloé, Christian Dior, Fendi, Givenchy, Goyard, Gucci, Hermes, Louis Vuitton, Loewe, Miu Miu, Prada, Saint Laurent, Salvatore Ferragamo and Valentino.
What are some of the preferred models?
Balenciaga: City Medium Top Handle Bag, Metallic edge Bag, Hourglass XS Bag
Bottega Veneta: Flat Cassette Crossbody, Jodie Mini Bag
Celine: Belt Nano Bag, Luggage Nano Bag, Mini Tote Bag Triomphe Canvas, Bucket Bag Small Triomphe Canvas, WOC Triomphe Canvas, Ava Medium Shoulder Bag
Chanel: Classic Flap Mini Shoulder Bag, Diana Flap Medium Shoulder Bag, GST GHW Tote Bag
Dior: Lady Dior Small Bag, Saddle Medium Bag, Book Tote Medium Bag, 30 Montaigne Bag, Saddle WOC, Saddle Phone Holder on chain
Goyard: Saint Louis PM
Gucci: GG Marmont Mini Shoulder bag, GG Marmont Small Shoulder bag, GG Marmont Mini Crossbody, GG Marmont Small Crossbody, Ophidia Crossbody Bag
Hermes: Evelyne Bag TPM, Evelyne Bag PM
Loewe: Puzzle Small Bag
Louis Vuitton: Alma BB, Eva Pochette, Felicie Pochette, Metis Bag, Palm Springs Mini Backpack, NeoNoe MM Bucket, Noe Nano Bucket Bag, Noe BB Bucket Bag, Speedy Nano Bag, Speedy 20 Bag, Speedy 25 Bag, Speedy 25 Bandouliere Bag, Speedy 30 Bandouliere Bag, Pochette Accessoire, Multi Pochette Accessoire, Thames PM Shoulder Bag
Prada: Gaufre Top Handle Bag, Galleria Bag Medium
Saint Laurant: YSL Compact Wallet, Kate Small Shoulder Bag, Kate Medium Shoulder Bag, Lou Crossbody Bag, Sac de Jour Baby, Niki Baby Bag, Niki Medium Bag

About Consignment

What is the consignment service commission charged?
Our consignment service commission rates are as follows:

| | |
| --- | --- |
| Selling price (Transacted Value) | Commission |
| $100 - $999 | 20% |
| $1,000 - $2,999 | 15% |
| $3,000 - $9,999 | 10% |
| $10,000 onwards | 5% |
What if my consignment item doesn't sell?

If your consigned item hasn't been sold after 45 days, our merchandising team may reach out to you via WhatsApp with our new recommended selling price to remain competitive in the market. You may choose to reduce your selling price or continue with the same price. After 90 days, you will be able to follow our new recommended selling price based on the current market price or to collect back your item at no cost!
Can I change my mind to stop consigning halfway?
Of course! Simply inform our merchandising team and we will schedule an appointment for you to collect back your items. For any return prior to the 90-day consignment period, there will be a surcharge of $100. Alternatively, you may also consider selling to us directly.
How will my item be stored when being consigned?
Upon receiving your item, our team will do a simple clean up and photoshoot of your item before uploading it on our platform. It will be stored in our secured warehouse during your consigned period. It is only when potential buyers request for viewing or for potential in-house livestreams, we will then take your bag out for them to view.
About Direct Selling to Carousell
How do I know how much my bag/wallet will be worth?
Based on your item's brand, model, material and color, condition, serial number, our merchandising team will provide you with our best buy-in price (subject to your item being within our accepted buying range).
What if the direct selling price is not within my expectation?
No worries as there is no obligation for you to accept our quote. You may also opt for our consignment service with your preferred selling price. Alternatively, you may also sell the item yourself on our open marketplace on Carousell.
How many bags and wallets can I sell?
There is no cap to how many bags and wallets you can sell. We are more than happy to help you clear your preloved items seamlessly and quickly, with zero hassle!
For any further enquiries, kindly contact merchandiser@thecarousell.com or WhatsApp us directly at +65 8866 0332.
Operating hours: Mon-Fri, 10am-7pm, except public holidays